---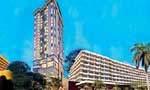 Special Hospitality Desks are now open in all three properties as part of this firstever 'Cinnamon Christmas in the City' initiative with a seasonal brochure highlighting all events lined up for the holiday season, catering to both adults and kids alike.
In keeping with the Cinnamon promise of lifestyle experiences, special areas have been allocated traditional yuletide specialities such as mince pies, rich cakes, macaroons, honey florantines and others are yours for t he taking at Goodie Hut at Cinnamon Grand Colombo from the beginning of the month.
Christmas puddings, stollen, tutti fruity biscotti, traditional roast turkey and roast leg of boneless lamb are also part of the extensive line-up of what's on offer.
The much favoured Christmas speciality, mulled wine is also presented for purchase. Special ice creams, savouries and speciality coffees are some of the other distinctive offerings at Coffee Stop. to sell Christmas related treats, hampers and other yuletide items. This year all three properties have also introduced signature seasonal treats.

A range of exquisitely handcrafted seasonal treats andCinnamon Lakeside's Goodies café has laid out their selection of merry treats and gourmet specialities. Tasty trifle creations in cherry, raspberry, lemon, peppermint, cranberry and cognac flavours are part of the new offerings.Gourmet roasted joints, honey glazed ham, turkey with trimmings and chicken roulades are also available for pickup or delivery.Asia's first lean-luxury hotel and the newest entrant to the Cinnamon portfolio, Cinnamon Red will introduce an array of mini Yule logs, cupcakes and boxes of macaroons at the hotel's reception cum coffee shop Stirred. Cinnamon Hotels in the city will unfold the seasonal activities, Christmas and New Year offerings in the coming weeks.