---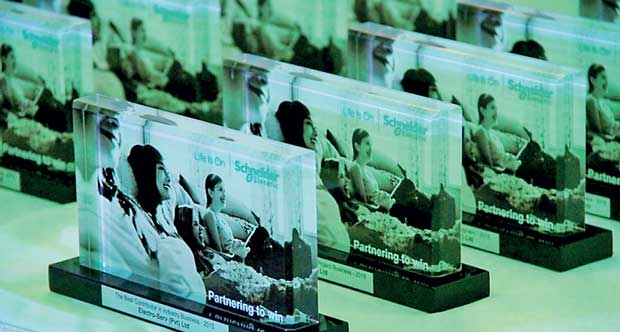 Schneider Electric, the global specialist in energy management, rewarded the contributions of its partners by recognizing their outstanding performances, at the recently concluded 2016 edition of the annual 'Partners' Meet' hosted by the company.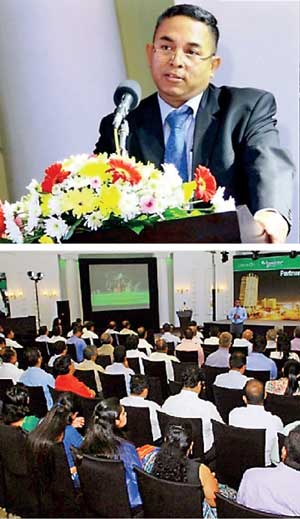 The event was attended by senior officials – including chairmen, managing directors and CEOs – of the partner institutions of Schneider Electric, which offers integrated solutions to make energy safe, reliable, efficient and productive for many purposes and sectors including energy and infrastructure, industry, data centres and networks, buildings and residential markets. The partners of Schneider Electric play a significant role in distributing the company's products and thereby driving sales and revenue.
Around 70 representatives from partner organisations gathered at the partners' meet held at Galle Face Hotel. The senior managers of Schneider Electric in Sri Lanka were also present to applaud the achievements of the best-performing partners who were recognized at the event, at which over 20 awards/mementos were presented.
"The contributions and the commitment of our valued partners have been a key factor in our success and in propelling Schneider Electric to an industry leadership position both locally and globally," Schneider Electric Country Director Sri Lanka, Bangladesh and the Maldives Pradeep Saikia said.
"The annual partners' meet presents an opportunity for us to express our deep appreciation of the efforts of our partners and to further enhance our ties with them – and thereby reach new heights together."
The partners who were recognized with the presentation of mementos at the event were: Electro-Serv (Pvt.) Ltd, Bianco (Pvt.) Ltd, Electro Metal Pressings (Pvt.) Ltd, Venora International Projects (Pvt.) Ltd, Kelani Cables PLC, ACL Cables PLC, Static Company (Pvt.) Ltd, Water Mart Engineering (Pvt.) Ltd, Lanka Energy Conservation (Pvt.) Ltd, Ried International Trading Associates (Pvt.) Ltd, Walker Sons & Co. Eng (Pvt.) Ltd, N-able (Pvt.) Ltd, Debug Computer Peripherals (Pvt.) Ltd, DMS Electronics (Pvt.) Ltd, RoseWare Corporation (Pvt.) Ltd, Trident Corporation (Pvt.) Ltd and Infotechs (Pvt.) Ltd.
Besides the partners' meet, Schneider Electric supports its partner organisations by providing training to further enhance their capabilities.
Schneider Electric is a global specialist in energy management and automation with operations in more than 100 countries. It offers integrated solutions across multiple market segments and holds leadership positions in Non-residential and residential buildings, industries and machines manufacturers, utilities and infrastructure and data centres and networks. Dedicated to making energy safe, reliable, efficient, productive and green, the group's 170,000 employees achieved revenues of 25 billion euros in 2014, through an active commitment to help individuals and organizations make the most of their energy.