---

INSEE Cement, the official construction solutions provider of the ninth Jaffna International Trade Fair 2018 (JITF) held from the January 26th to 28th at the Jaffna Municipal Grounds, further strengthens their presence in the rapidly progressing Northern region as the cement
brand of choice.

This is the third consecutive year that INSEE Cement joined JITF, the largest consumer and trade fair in the Northern region to provide consumers with the most innovative and progressing construction solutions, to meet the accelerated pace of development in the peninsula. The INSEE Cement team engaged with over 30,000 consumers, dealers, key officials and delegates, investors as well as representatives of public and private sectors at the JITF 2018. They were introduced to INSEE Cement's latest advancements, together with the range of solution-based, high-performance cements, mortar and innovative Conwood products.

Conwood products are architectural and decorative building material manufactured as a substitute for authentic wood products used in residential and commercial buildings. Created using the highest quality raw materials with ultramodern Swiss technology, the product range introduced at JITF 2018 comprised of ceiling, wall, floor and other multipurpose decorative material that are durable, termite proof, incombustible and 100 percent eco-friendly.

The INSEE Cement team also heavily engaged with the Northern Region's Individual Home Builders (IHBs), contractors and masons throughout the days preceding the JITF, understanding consumer requirements, and sharing knowledge and new insight on INSEE Cement's future-proof products and sustainable solutions.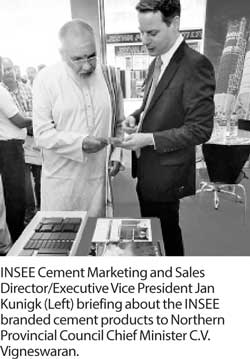 "We witnessed an amazing drive for development in the North," commented INSEE Cement Marketing and Sales Director/Executive Vice President Jan Kunigk. "INSEE is excited with the prospects and while continuing to address the demanding construction needs of these consumers, we are also investing in expanding our presence further in the Northern region."

Siam City Cement (Lanka) Ltd or INSEE Cement, is a member of the Siam City Cement Public Company Limited (SCCC), a leading cement manufacturer in Southeast Asia, founded in 1969 in Thailand. The company manufactures INSEE branded cement, readymix concrete, construction aggregates and solutions to serve a widespread regional market that includes Cambodia, Bangladesh, Vietnam, Indonesia and Thailand, in addition to Sri Lanka. INSEE Cement is the first certified 'Green Cement' product in Sri Lanka with the Green Labeling Certification awarded by the Green Building Council. INSEE Cement is the only fully integrated cement manufacturer in Sri Lanka.

The parent company, Siam City Cement Public Company Limited (SCCC) has adapted and progressed to serve the construction needs of the region; its cement manufacturing facility in Saraburi, Thailand, is the world's largest cement production complex. The company, SCCC draws from the accumulated expertise and knowledge over decades of operation, and is strongly focused on investing in rapidly advancing regional markets such as Sri Lanka that show much promise in sustainable construction.