---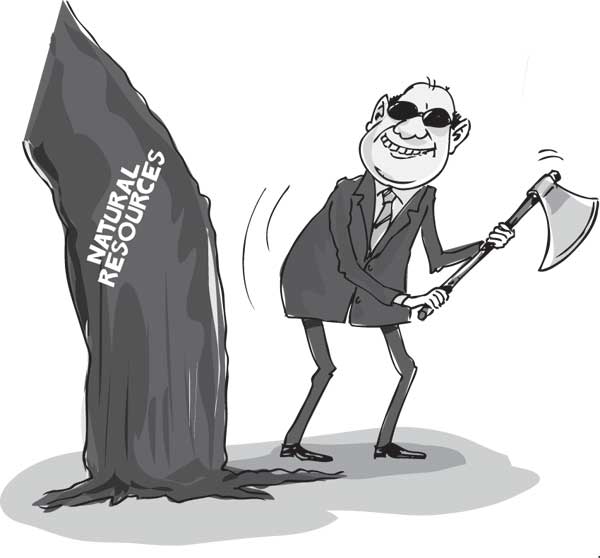 Environmentalist Ravi Prasad Herat in a thought-provoking feature published in the Daily Mirror on Thursday to mark World Environment Day said of the 30 million species of flora and fauna that the scientists believe exists in the world, only 1.4 million have been positively identified by the 20th century. Most of them live in the developing countries of the tropical zone.

In a shocking revelation, he said it had been confirmed that as a result of the present so-called progress, living things were becoming extinct at a speed ten thousand times faster than the speed at which human beings evolved. That is to say that 20,000 species are becoming extinct each year. In other words, because 15% of the living things in the entire world are in tropical forests, if the current trends continue unabated it will take only 30 years for the annihilation of all those species. Shocked, are you? Then the theme of the June 5 World Environment Day will be valid for you, "Raise Your Voice, not the Sea Level." Indeed, political, religious and business leaders and all the people including children need to be made aware of our mad race toward self-destruction so that they will speak up and act to save us and the generations to come.

According to the Daily Mirror writer, the accepted theory was that it is better to hand over one's resources to the rich West and become dependent on them rather than using our own skills and natural resources to overcome poverty. Accordingly, Sri Lanka built roads through the Sinharaja forest and allowed a developed country to exploit part of it.

Senior Minister and Veteran Lanka Sama Samaja Party leader Professor Tissa Vitharana speaking on television on Thursday said poverty alleviation and an equitable distribution of wealth and resources would be possible in Sri Lanka only to the extent we used our professionals to develop our valuable natural resources and export them to the West at more than ten times the price we could obtain for the raw material. Professor Vitharana said the government instead of depending on variable and vulnerable areas such as tourism and foreign direct investments should get our professionals to use the latest nanotechnology processes and sell the finished products to the West. The Eppawela phosphate resources are one such example and there are scores more because Sri Lanka – despite all the crime, corruption and family bandism is still an island paradise rich with natural resources which we are not making full use of. Instead, some leaders seem to be packing their eggs in one basket and depending on James Packer's casinos to develop tourism.

Sri Lanka is known to have thousands of varieties of small plants and insect species some of which are endemic. What we have been doing up to now is to lease these lands to foreign companies which take these species out and develop them and makes perhaps a hundred times more in profit than they invested here. What Professor Vitharana is suggesting is that we get our own professionals to use nanotechnology and export the developed product to western countries at more than ten times the price we get for the raw product.

In addition, the government and all the people of Sri Lanka need to pay more attention to the excessive emission of carbon dioxide which is damaging the ozone layer and was the reason why we recently sweated through some of the hottest days in our history. We need to measure our carbon footprints, see how much we are contributing towards the depletion of the ozone layer, global warming and the sea levels which may rise by about five feet within decades. We all need to see how we could reduce our carbon footprints, for instance by using more public transport than private transport and even going back to the good old Bubby Aachchi's bicycle for short journeys. It won't be just a Baila but a patriotic contribution towards the reduction of global warming to save our country and the world from self-centred self-destruction.