---
Though most believe that the general standard of party politics in Sri Lanka has degenerated to its worst levels it is still the most important arena because the decisions taken at various levels -- the executive, legislature, provincial and local councils -- affect hundreds of thousands if not millions of people.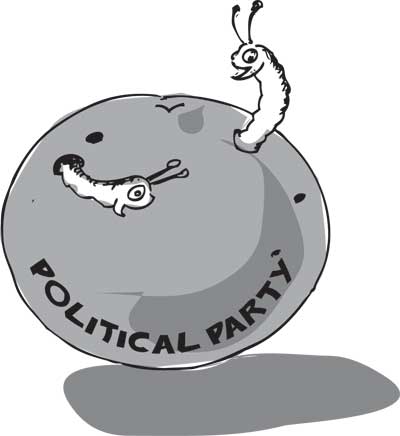 In other fields of activity ranging from sports to stage and screen acting and from medicine to engineering and other professions, what is done is important but it is politics that makes a major contribution to society, often positively but also sometimes negatively. Yet, it is in the political arena that vital decisions are made on issues relating to democracy and good governance, transparency and accountability, the economy, social justice and international relations.

Until 1978 we had a process where stern action was taken against politicians involved in corruption or fraud or who violated the rule of law. After that we saw a gradual degradation where notorious criminals were often known to get political protection or patronage at the highest levels. Since of late criminal elements themselves have entered politics and the results are seen in many cases including the allegations against the Tangalle Pradeshiya Sabha Chairman. His alleged involvement in the killing of the British Red Cross worker Khuram Shaikh who was on holiday here and the sexual assault on Mr. Shaikh's Russian girlfriend have attracted much attention. The PS chairman has been able to produce medical certificates which a high Court judge this week said were unbelievable or unreliable. After evading and playing around with the legal system for several months, he has now been remanded.

It is in such a backdrop that nomination lists are being prepared for the elections to the Western and Southern Provincial Councils in mid-March. Little hope there is about the nomination lists that would soon come out from the major parties. The Daily Mirror on its main feature page on Thursday published interviews with some of the potential candidates. For instance, the singer Ginger whose real name is Judith White says she is a black sheep and a working horse who will always gallop. Another possible candidate, former Miss Sri Lanka and popular model Gayesha Perera says that among other things she would like to produce beauty queens for the country.

Teledrama actress Ruwanthi Mangala says she will decide on her priorities after being elected, but would focus on tough action against those who abuse children and women. Most of those on the UPFA list are either popular personalities in acting or sports and the sons and daughters of top politicians.

However, it is not a phenomenon seen in Sri Lanka alone and this is not the first time that actors and actresses are entering politics. Earlier we had Vijaya Kumaratunga and Gamini Fonseka entering politics from the silver screen. Our neighbouring India is famous for movie stars turning politicians in heaps. In the US, President Ronald Reagan took to politics after a stint in the movies and more recently Arnold Schwarzenegger of Terminator fame served as the Governor of California.
But most of us still remember the days of D.S. and Dudley Senanayake, S.W.R.D. and Sirimavo Bandaranaike, N.M. Perera and Colvin R. de Silva, S. A. Wickremasinghe and Pieter Keuneman and more recently Lalith Athulathmudali, Gamini Dissanayake and Lakshman Kadirgramar among others. Where have such great personalities gone and are we coming closer to a tragedy where politics might be the last refuge of the scoundrel?

If medical doctors need to study hard for five to ten years to get their degrees, if lawyers, engineers, teachers and other professionals need to study and be trained for several years before getting a posting, then why are we not introducing educational standards such a university degree for those who want to enter politics where the most important decisions are taken regarding the other professions and millions of people?

But yet again it is a fundamental right of every citizen to stand for election to public office. It is finally up to the voters to decide on whom they should elect.