---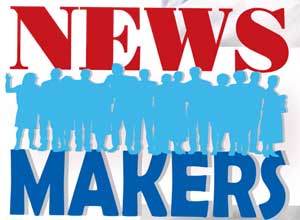 ri Lankans, bruised after weeks of battling rampant floods, a raging dengue epidemic and religious tensions will this week unite in celebrating the sport which often brings them together, after the national cricketers won their first ever series victory in England in a nail-biting thriller on Tuesday.

And leading them was their captain Angelo Mathews. Mathews, fresh after a sterling performance at the previous Test at Lords', surpassed even those high standards, scoring 160 runs that and taking four wickets. As a result Sri Lanka, initially struggling to force a draw, went on to record a famous win.

Sixteen months into his job as Sri Lanka's test cricket captain - and the thirteenth to take that job - Mathews has now achieved what even the great Arjuna Ranatunga could not do: win a test series against England, in England, a rare achievement for teams touring the land where the game was born.

Mathews though has been in the spotlight during the England tour not only for his performances. His decision to endorse the controversial dismissal of Joss Butler at the non-striker's end during the one-day series meant that the English cricket authorities and the media always had the knives out for him.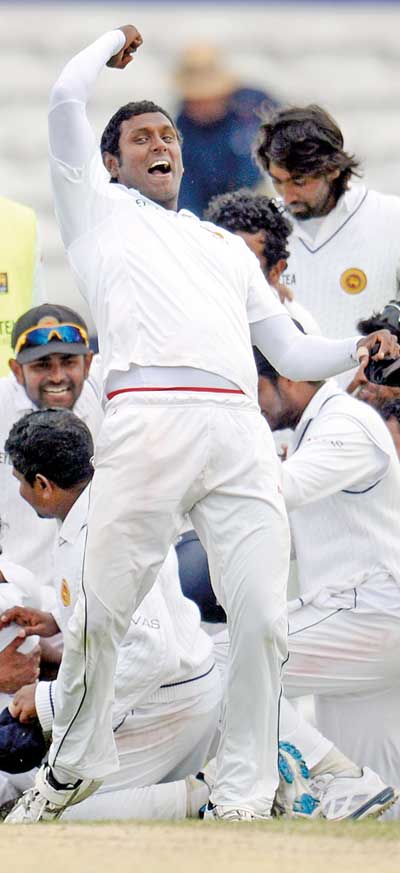 Twenty seven year old Angelo Mathews began his cricketing career at St. Josephs College, Colombo a school which also produced Sri Lanka's best paceman Chaminda Vaas. Thisara Perera, another exciting prospect for Sri Lanka was a team mate of Mathews at school.

He excelled in school cricket and captained the Sri Lanka Under-19 cricket team at the Under-19 cricket World Cup in Sri Lanka seven years ago. That was to be his stepping stone to break in to the national cricket team.

His international debut was against Zimbabwe two years later when Sri Lanka toured that country. Against a weak opposition, Mathews had a modest tour and at that stage his place in the team was by no means guaranteed, with many others vying for national honours.

Mathews however grabbed world attention during the World Twenty20 tournament in 2009 when he made a spectacular save near the boundary by catching the ball, throwing it back into play as he was going over the boundary line and then returning to retrieve it. He was hailed as a 'thinking' cricketer.

A string of consistent performances followed, especially in the one-day format of the game that showcased Mathews' talents as a right-handed batsman and a medium-pace bowler.

Mathews gradually sealed his place in the one-day team as its all-rounder.

Perhaps a reason for investing in Mathews with the captaincy is his temperament. Many a time, he has shown that he can be unruffled in the face of rising tensions on the cricket field and play his normal game, often guiding other players with a degree of maturity that belies his age.

A case in point was the one-day international against Australia in Melbourne in November 2010. Australia had posted a decent 239 for 8 and chasing this target Sri Lanka's frontline batsman had given up the ghost when Mathews was joined by Lasith Malinga with the score at 107 for 8.

Mathews played the stellar role, scoring an unbeaten 77 in a partnership that took Sri Lanka to an improbable victory and set up a world record for the highest ever partnership for the ninth wicket. It was a defining moment in Mathews' career and one that again earmarked his leadership potential.

By the end of 2011, when the hierarchy of the Sri Lanka cricket team was in disarray with Kumar Sangakkara's resignation as captain and Tillekeratne Dilshan being appointed to the captaincy only to resign a few months later, Mathews was the automatic choice as vice-captain.

Mahela Jayewardena accepted the captaincy again in 2012 and Mathews retained this position. He was being groomed for the captaincy and confirmation came when he was appointed skipper of the Twenty20 team, in the aftermath of the loss of the final in Colombo and Jayewardena's resignation.

Mathews' elevation to the captaincy of the test and one-day international formats in February 2013 therefore came as no surprise. However, Mathews has had to pay a price: the captaincy of the Twenty20 format had been handed over first to Dinesh Chandimal and now to Lasith Malinga.

While Mathews may have the temperament to lead the country, he is yet to reach great heights as a player. He has played only forty test matches, has only four centuries against his name in test cricket and is yet to score a one-day international hundred, his highest score being an unbeaten eighty.

However, the recent tour to England enabled him to display his potential as a player. His performances in the One Day Internationals and tests earned the plaudits of English critics as well who hailed his calm temperament and his cricketing acumen as a captain.

Unlike some of his predecessors, Mathews' performances as a captain have been much more impressive then when he was a mere player in the team. He has also successfully handled three former captains in the team: Mahela Jayewardena, Kumar Sangakkara and Tillekeratne Dilshan.

Mathews' diplomatic skills will however be put to the test as he will have to bear the pressures that come with the captain's job not only on the field, but off it as well. His employer, Sri Lanka Cricket has a dubious record in this regard with that institution itself involved in constant controversy.




Mathews has now achieved what even the great Arjuna Ranatunga could not do: win a test series against England, in England, a rare achievement for teams touring the land where the game was born




After his stellar performances in England and after scaling such great heights so early in his tenure as captain, Mathews may find the burden of expectation hard to handle. Thus far though he seems to take the pressures of captaincy in his stride.

If Angelo Mathews can get his act right, he has a good ten years of captaincy ahead of him. However, he must also know that the life of recent Sri Lankan cricket

captains, are like the bouncers he faces on the field: nasty, brutish and short.