---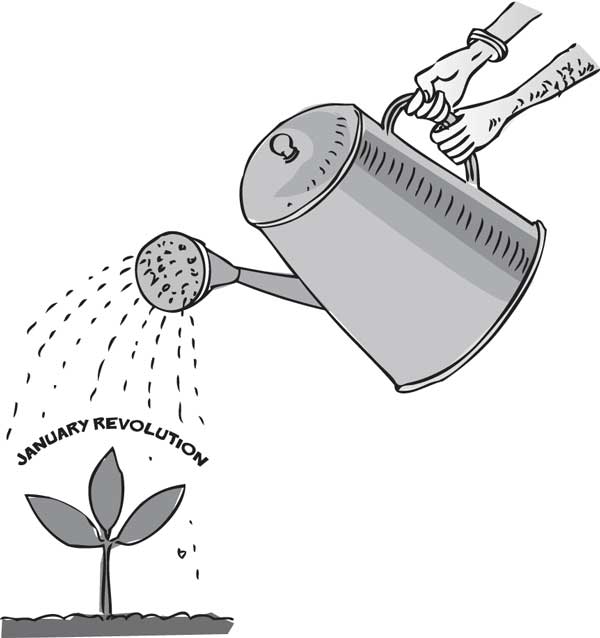 Yesterday the nation marked the first anniversary of the silent people's revolution where 6,217,162 people of all races and religions freely elected common candidate Maithripala Sirisena as the sixth Executive President. It was a stunning spectacular victory and for the first time an Executive President was overthrown by the sovereign people in a peaceful revolution that will have a special place not only in Sri Lanka's history but also in world history. As the United Nations Secretary General said in a special message, it was one of the democratic world's greatest events in 2015.

Elections Commissioner Mahinda Deshapriya and thousands of unarmed but duty conscious staff at polling booths all over the country had ensured a free and fair poll which ended at 4 pm on January 8. The security forces also cooperated to ensure a poll free of violence, thuggary or intimidation. Perhaps no one was fully aware of the peaceful revolution that was taking place. After 4 pm another peaceful operation began to transfer the ballot boxes to counting centres and as night fell on that historic day, the counting began.

Temple Trees, renovated since 2009 to have the luxuries and extravagance of a five star hotel, had during the poll's campaign been turned into a command centre and control room for the then President Mahinda Rajapaksa. Mr. Rajapaksa himself and close associates had been arrogantly boastful they were certain of victory for a third term, a fourth and even a fifth with a family heir taking over after that. Reports say that for every electorate there was a 'Temple Trees' control room with digital technology to monitor what was happening.

As midnight neared, the computer screens showed clear signs of the emerging rainbow revolution with the Tamils, Muslims and other minority communities throwing their weight behind Maithripala Sirisena in a magnitude to which they had not supported any other President. According to reports, as the Rajapaksa dynasty began to see stars that night, crisis talks were taking place at Temple Trees. Among those there were the controversial Chief Justice Mohan Peiris and Central Bank Governor Ajith Nivard Cabraal. Unconfirmed reports say among the options discussed were the declaration of a state of emergency and the possible suspension of the election. But these reports say at least two State officials had refused to cooperate in anything illegal such as a Constitutional coup.

Author Dinesh Weerakkody, in his recent book 'The Great November Revolution' tells us what happened that night at the control room of the then Opposition Leader Ranil Wickremesinghe's office. He says Mr. Wickremesinghe came there around 5 am and looked relaxed. Other reports say that when Mr. Wickremesinghe had heard of an alleged constitutional coup and a possible bloodbath, he had gone to Temple Trees to plead that the people's verdict be accepted. One of the important factors he reportedly brought up was that if a blood bath took place, it might also mean the cancellation of the visit by Pope Francis on January 13.

Whatever happened or did not happen, the then President Mahinda Rajapaksa finally agreed to leave Temple Trees around dawn on January 9, after speaking to the victor Maithripala Sirisena. As Mr. Rajapaksa flew back to his home base in Medamulana, the Common Opposition finalised plans for the swearing in of Mr. Sirisena as President and Mr. Wickremesinghe as Prime Minister. There was a common agreement that the swearing-in should take place not before Chief Justice Peiris but before the then senior-most Supreme Court Judge K. Sripavan who is now the Chief Justice, the first Tamil to hold this highest legal office.

What happened from 2010 to January 2015 must not happen again. Never again yesterday. As philosophers have told us, eternal vigilance is the price of liberty. Sri Lanka's quiet but brave people who ushered in one of the great people's revolutions in history, now need to be watchful to ensure the building of a new Sri Lanka. President Sirisena perhaps summed it up in response to a question by visiting Pakistani Prime Minister Nawaz Sharif. When asked what he would do or where he would be when the Executive Presidential system was terminated by 2020, he responded that the more important question was where the country would be.