---
With Sri Lanka facing conflict after conflict and conflicts within conflicts, our leaders and others need to turn around to the hallowed middle path of conflict resolution before another calamity like the 1983 racial holocaust engulfs us.

This middle path of dialogue needs a paradigm shift or a change of perception. Whether it be a racial, religious or socio-economic conflict, all parties concerned need to be aware that their perception of the issue or issues is always relative and never absolute. Our small human minds do not know the full truth nor see the complete picture of any issue. What we see is relative.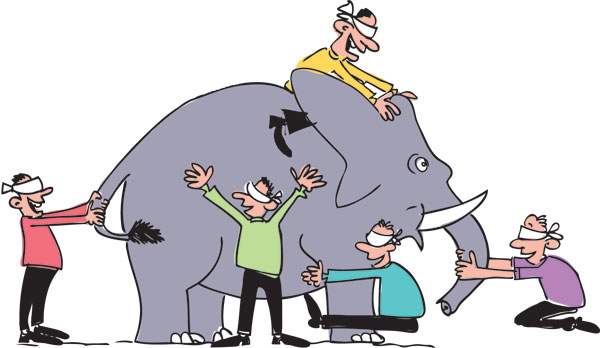 An example often cited by conflict resolution experts or peacemakers is that of five blind people who were asked to describe an elephant. One touched the leg and said the elephant was like a tree trunk. The other touched the body and said it was like a big barrel. The others touched the tail, the ears and the trunk of the elephant, and described the animal according to the part they touched. The reality is that the full picture is made only when the five different perceptions are put together.
History also shows us that those who think they have the full perception or know the absolute truth on any issue are mentally unbalanced. One horrible example was that of the mad dictator Adolph Hitler. He apparently thought his perception of Aryan supremacy was absolute. So anyone and all who did not fit into that perception were first marginalised. When that did not work he exterminated them.

That is why more than six million Jews were massacred in one of the worst holocausts in history. With some extremist groups trying to inflame tensions between the Buddhist and Muslim communities, a peace activist recalled that in 1933 one of the first posters of the Nazis said, "Patriotic Germans protect your nation, don't buy from the Jews". Does it sound familiar? When there is a sincere dialogue among the parties concerned, we listen to each other with the intention of getting a fuller picture of the issue. If we have only discussions or arguments, it will be like a dialogue of the deaf, and will produce more heat than light. But if we have a sincere dialogue and listen to each other, we could reach an accommodation on the middle path.

This is known as synergy. One plus one will make not two but three - something new, a fuller and bigger picture. This is the path to conflict resolution and a great saint put it in these immortal words, "Make me a channel of your peace, where there is hatred let me bring love, where there is injury let me bring pardon and forgiveness. May I seek to understand more than to be understood, to console more than to be consoled and to love with all my heart. For it is in giving that we receive and in dying to self-centredness that we rise to a liberated life".