---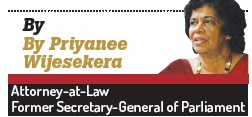 Article 12(1) and (2) of the Constitution of the Democratic Socialist Republic of Sri Lanka categorically states that all citizens are equal before the law and that no one shall be discriminated against, among others, on grounds of sex. However, the reality is quite different and the women in Sri Lanka are in a disadvantaged position. Women in Sri Lanka make a substantial contribution to the national economy. Yet they have often got to bear an unequal burden due to cultural prejudice and they get insufficient protection from the law.

During the past few years incidents of violence against women recorded a sharp increase and politically favoured persons appeared to have an unofficial right to break the law at their will and pleasure. It was clearly noticeable that law enforcement agencies and other government institutions were reluctant to enforce the law against certain individuals. The problem reached such embarrassing proportions as to prevent the maintenance of proper statistics. This was an unfortunate period when Sri Lanka's prestige ranked very low in the International stage.

Freedom from gender-based violence (including domestic violence) can only be realized in the context of increased social, political and economic freedoms and rights of women. There are clear links between Genderbased violence and factors like poverty, HIV/ AIDS, and property rights. Therefore, providing equal employment opportunities and property rights for women is absolutely vital.

It is also essential to censor adverse propaganda against women and eliminate discriminatory and derogatory images about them particularly in literature and in the entertainment industry. A future government would also do well to give a sound education to young males about the necessity to respect women of all ages. Therefore, a future government should give priority to ensure equal distribution of economic resources as well as social acceptance of women who comprise more than half of the population of Sri Lanka.





GENDER BUDGETING


Gender-responsive budgeting is already implemented in more than 50 countries over the world. Sri Lanka too should use the national budget as an instrument to ensure that men and women are equally treated in all sector programmes. To eradicate poverty, sufficient economic resources and adequate educational and health facilities should be provided for women keeping in mind their particular needs and requirements.





INCREASING WOMEN'S PARTICIPATION IN POLITICS


Increasing Women's representation in Parliament and other representative bodies is one method of ensuring that women's needs get adequate attention. At present women's representation is at a very low level. Introduction of quotas decentralization and capacity building for women politicians and some of the methods advocated for solving the problems. The high cost of facing an election is also a major reason discouraging women from contesting. Introducing laws to control campaign funding would undoubtedly contribute to encourage women's participation in elections. It is also the duty of a future government to promote increased women's appointments to decision making bodies in the public and private sectors.





INTERNATIONAL TREATIES AND CONVENTIONS


As a member of the international community there is a need for the Government to accelerate the implementation of International Conventions and treaties in the formulation of its national polices and plans. The United National Front for Good Governance Manifesto contains the following features on women's advancement





RURAL WOMEN'S DEVELOPMENT
Rural women who are oppressed by debt will be given relief from those burdens.
As there have been reports that the relief given by the government to redeem pawned gold jewellery has not been implemented in certain areas, an effective programme will be executed in such areas to provide this relief to those in need of it.
A village institution will be established to provide assistance and relief to rural women especially in war-affected areas who have been lured into fraudulent financial scams such as exploitative loans and leasing facilities.
POLICE
A new Police Act will be enacted to replace the Police Ordinance of 1865.
The following actions will be taken based on the recommendations of the Report on Violence against Women including:
1. Police stations will be staffed with women officers to handle women's and children's issues. This will be headed by a woman DIG.
2. Establish a committee under the new Police Act headed by a woman DIG with representatives of the AG, Women's Ministry and women's organisations to supervise the action taken on gender-based crimes.
Transport, roads and villages to be made safe for women. Respective OICs to be held responsible for ensuring their safety.
RIGHTS OF WOMEN
We recognise gender prejudice, oppression and historical disadvantages faced by the women of this country, and affirm our pledge to guarantee the economic, political, social and cultural rights and empowerment of women.
In keeping with Sri Lanka's commitment to the United Nations Convention on the Elimination of Discriminations against Women as well as The Women's Charter:
A Bill of Rights for Women will be enacted to safeguard the rights of women.
A National Commission on Women will be established with full powers and funding to enforce the Bill of Rights.
We accept that there is a situation where sexual crimes and violence against women can be committed without facing the risk of punitive action and this situation will be changed. We assure to enforce strict legal action against such offenders. Therefore:
n Punitive action will be taken against those who do not enforce the laws on Preventing Sexual and Gender-Based Violence (SGBV);
We will establish district AGs offices and separate courts with specific timeframes to expedite cases of SGBV
Do away with the judicial practice of minimum and suspended sentences for the crime;
Appoint a National Commission with extensive powers on Preventing Sexual and Gender-Based Violence (SGBV) and
Provide a state-sponsored special assistance programme for victim-survivors of SGBV in the country.
We will make sure that women are ensured political representation via 25% political reservations at local government levels and provide incentives for political parties to nominate at least 25% women for elections.
A special Authority will be instituted to look into and expedite solutions to the issues of women-headed households, particularly those who were affected by the war
We will abolish state policies that prevent women who are employed overseas from choosing their preferred jobs, and ensure their rights and safety. In the past the United National Party Government has taken many meaningful steps to promote women's rights. It was the UNP Government that first established a Ministry for Women's Affairs. More recently by the upward revision of pensions, the UNP government has granted a boon to women and widows who form the larger sector of pensioners in the country. With this track record one can expect a future UNP Government to work towards the upliftment of women in society.