---
Poverty alleviation or social justice with a more equitable distribution of wealth and resources is widely accepted as the number one priority issue for the world. Hundreds of millions of people are oppressed in this poverty trap manipulated by systematic capitalism and they are the worst affected by the ongoing Covid-19 pandemic. That is why we are seeing unprecedented and widely supported campaigns for an end to white supremacist racism and for social justice. While the poverty trapped millions of people are the worst affected by the ongoing Covid-19 pandemic, most of us would not be able to imagine or understand the mud hole or hell hole in which refugees are languishing in varying degrees of degradation and destitution, desolation, deprivation and desperation. Yet most of them are known to be facing the crisis with courage and hope.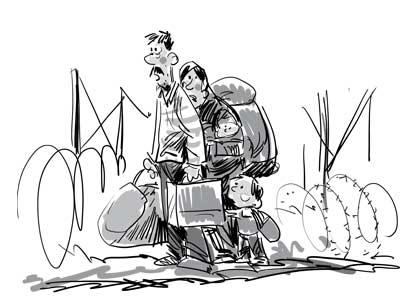 On June 20 we mark the World Refugee Day and the numbers are so shockingly or shamefully high that the United Nations has set up a High Commission for refugees (UNHCR). The theme this year is "Every Action Counts" and the High Commission in a statement says the day is meant to celebrate the strength and courage of people who have been forced to flee their home country to escape conflict or persecution.

World Refugee Day shines a light on the rights, needs and dreams of refugees, helping to mobilise political will and resources so refugees cannot only survive but also thrive. While it is important to protect and improve the lives of refugees every day, international days like World Refugee Day help to focus global attention on the plight of refugees. On World Refugee Day many activities are held and they help to create opportunities to support refugees. It was originally known as Africa Refugee Day, before the UN General Assembly in December 2000 officially designated it as an international day. Each year, World Refugee Day is marked by a variety of events in many countries in support of refugees. These activities are led by or involve refugees themselves, government officials, host communities, companies, celebrities, school children and the people.

What can I do on World Refugee Day 2020? Due to the coronavirus pandemic and restrictions on large gatherings of people, many activities this year have moved online. According to the UN, the world is witnessing the highest levels of displacement on record. Around the world, at the end of 2018 an unprecedented 70.8 million people have been forced from home by conflict and persecution. Most social analysts believe the number now must be much higher. Among them are nearly 30 million refugees, more than half of whom are under the age of 18. There are also millions of stateless people, who have been denied a nationality and access to basic rights such as education, healthcare, employment and freedom of movement.

Refugees have been granted asylum in foreign lands for thousands of years. The UNHCR emerged in the aftermath of World War II to help Europeans displaced by the war. UNHCR was established on December 14, 1950 by the UN General Assembly with a three-year mandate to complete its work and then disband. The following year, on July 28, the legal foundation of helping refugees and the basic statute guiding UNHCR's work, the UN Convention relating to the Status of Refugees, was adopted. So instead of ending its work after three years, UNHCR has been working ever since to help refugees. In the 1960s, the decolonisation of Africa produced the first of that continent's numerous refugee crises needing UNHCR intervention. Over the following two decades, UNHCR had to help with the displacement crises in Asia and Latin America. By the end of the century there were fresh refugee problems in Africa and, turning full circle, new waves of refugees in Europe from the series of wars in the Balkans. In a world where almost 1 person is forcibly displaced every 2 seconds as a result of conflict or persecution, the work of UNHCR is more important than ever before.

In addition to persecution and conflict, in the 21st century, natural disasters, sometimes due to climate change, can also force people to seek refuge in other countries. Such disasters – floods, earthquakes, hurricanes, mudslides – are increasing in frequency and intensity. While most of the displacement caused by these events is internal, they can also cause people to cross borders.

Helping a refugee or refugees is a noble act and it needs to become part of our spirituality. All people are equal and they need to be treated with equality to bring about justice and righteousness
in society.