---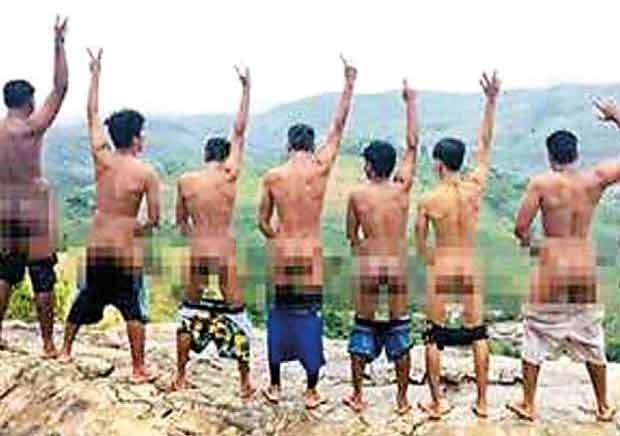 Richkids image gives extravagant lifestyle and spread the idea among other youth
It was the social media craze that prompted the youth to misbihave
They should should have paid respect to the Sacred Buddishist shrine in the vicinity
---

Last month the Pidurangala Challenge became well-known for all the wrong reasons. The bare-bottom boys who found themselves behind bars for what they all though was a Facebook prank, must be thinking what really happened to them.
A lot of us wondered why these kids, some of whom had just sat for the A/L's, did not realize what they were doing was insanely stupid. Hailing from the predominantly Buddhist Kurunegala District, they should have known better than to do what they did in a Buddhist sacred site.
But why did they did they do that?
During the initial questioning one of them gave a hint. He said that they wanted to be 'hits on FB'. That they had taken up the challenge of a foreign woman, who had done the same baring the rear business, but was presumably now in a country outside of Sri Lanka, anticipating that the images would get loads of hits, interactions and shares. A simple web search of Pidurangala showed that the unfortunate group was not the first such miscreants on that rock. At the end of it, the images became more popular than they could have ever imagined.
That these kids thought it cool to bare their buttocks to become popular on social media, tells us lot of about the platforms themselves, their inner dynamics and why they are so popular and money making machines.
Social media thrives on interaction and engagement. But with millions playing the same field, the best way to attract attention is by being out of the ordinary


Because they pander to our innate want to feel good about ourselves, sometimes at the expense of others. Social media is like a mirror that we can project only what we want into the world and let it think, feel and exasperate that our lives are extraordinarily cool, rich and beyond compare. So social media is all about showing the best side about ourselves, the coolest side and richest side. In other words the most attractive side, or what we think is the most attractive side.
There is a craze on Instagram tagged #richkids, there are rich kids of everywhere – even rich kids of Sri Lanka. The stream is full of images of exorbitantly expensive cars, jewellery, gadgetry, wads of cash, canines and even firearms. There are a few rich kids, or those who pretend to be such, who have posed with pistols and at least one with a larger firearm. The whole idea is to show the world that those in the pictures are coolest and richest kids around.
Other kids who are growing up and easily influenced try to match the images – thus we end up with situations of young men baring their rears for no particular reason other than to get a few more likes on Facebook.
But this is also the attraction of social media and how the algorithms are set. Social media thrives on interaction and engagement. But with millions playing the same field, the best way to attract attention is by being out of the ordinary – so you show that you have more Bentleys than the chap who posted the pictures just before you, or more cash or if it is not cash, let's just add a pistol to the mix.
And the profit machine will make sure that the platforms play up the most attractive posts as well as show you the posts that are most like the earlier posts you searched.
Without these gimmicks, web-based platforms like Facebook, Twitter and Google would not be billion dollar industries.
So we are always going to come across the next one who will try to outmatch the Pidurangala fiasco. It is just question of when and how.
The author is the Asia-Pacific Coordinator for the DART Centre for Journalism and Trauma, a project of Columbia Journalism School Twitter@amanthap