---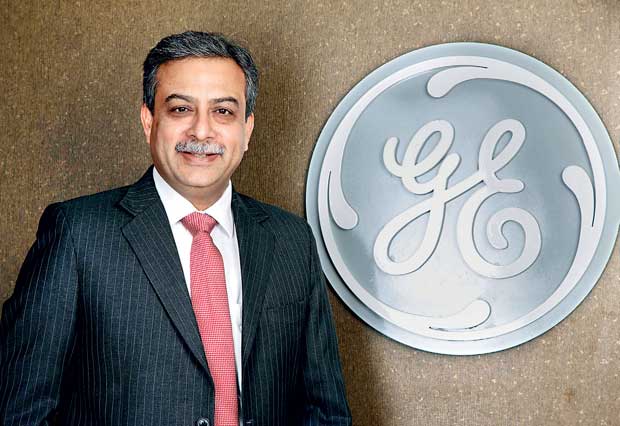 General Electric (GE), one of the world's largest publicly traded companies, has a large footprint in Sri Lanka's energy, transportation and health sectors. In an interview with Mirror Business, GE South Asia President and CEO Banmali Agrawala recently outlined the company's operations in Sri Lanka and the potential available in the sectors it has a footprint in Sri Lanka.
Following are the excerpts from the interview.
What have some of GE's main projects been in Sri Lanka in the past and what have been the sizes of investments or sales made in Sri Lanka? What are GE's current and future commitments to Sri Lanka?
For us, Sri Lanka is one of the key growth markets in South Asia, with a huge potential in sectors like power, transportation, aviation and healthcare. We have had a presence in Sri Lanka for more than a decade and our experience in the region equips us to deliver localized solutions for customers in line with the unique requirements of the country.
Powered by our regional innovation centre in Bangalore, GE is bringing highly localised solutions to solve the challenges that markets such as Sri Lanka face today in the infrastructure sector. We are keen to partner with Sri Lanka to meet its infrastructure and transportation needs. As a principal manufacturer of diesel-electric locomotives, GE Transportation has produced successive world-class models and developed rail technology that reduces operating costs, is highly efficient, minimizes downtime and complies with emission standards. We have supplied over 17,000 locomotives working satisfactorily across the world. In Sri Lanka, we work on digital technologies for the transportation sector through our acquisition of ShipXpress. We now have over 170 employees in the country.
GE has been a long-standing partner of SriLankan Airlines and we look forward to stronger co-operation. The country has experienced unprecedented passenger growth of 20 percent year-on-year in the last eight years.
If we look at the healthcare scenario, people in Sri Lanka need accessible and affordable healthcare solutions. GE is promoting access to healthcare in Sri Lanka through a network of channel partners supplying diagnostic and imaging solutions like mammography systems, CT, PET CT, MRI, cath lab, etc. In terms of power, Sri Lanka needs reliable, cost-effective and long-term solutions to solve power-related issues and should aggressively explore possibilities to diversify its energy mix. GE's liquefied natural gas (LNG)-based power generation technology could help diversify Sri Lanka's energy mix.
Sri Lanka has recently experienced one of the worst droughts in decades. Hydropower, on which the country relies heavily on, was affected greatly. In your opinion, what are the most cost-effective, socially responsible and practical alternatives Sri Lanka has to pursue to diversify its energy mix? What sort of role can GE play in making Sri Lanka's energy mix more sustainable? How fitting would LNG be to Sri Lanka?
We recognize that Sri Lanka needs reliable, cost-effective and long-term solutions to solve the power issues and should aggressively explore opportunities to diversify its energy mix. The Sri Lankan government is looking at incorporating LNG into the power generation mix to overcome the recent challenges of outages, grid instability and peak deficit, while at the same time focusing on affordable, reliable and clean energy.
GE has power generation technologies in coal, gas and hydro and is well-positioned to partner with the state and independent power producers (IPP) in Sri Lanka. With hydropower generation constrained by a lack of water, we see LNG as a viable alternative. In fact, most of the installed gas turbines in Sri Lanka are by GE. The country's installed base, which runs on liquid fuel, can be converted to gas and GE can bring its expertise in gas to power an end-to-end gas play.
Sri Lanka's population is ageing rapidly. What are some of the healthcare solutions GE can provide for the Sri Lankan market?
We offer a gamut of accessible and affordable healthcare solutions for all sections of the population in Sri Lanka. GE is promoting access to healthcare through a network of channel partners supplying diagnostic and imaging solutions. Some of GE Healthcare's key customers in Sri Lanka include Asiri Group of Hospitals, Durdans Hospital, Hemas Hospitals and Ninewells Hospital. GE Healthcare has 30 percent - 40 percent market share in each of slice CT modality (16 slice CT first in Sri Lanka in 2004 and 64 slice CT first in Sri Lanka in 2007). GE Healthcare provided the first PET CT in Sri Lanka in 2011. This machine has scanned 2700 cancer cases so far. About 2.6 million patients are treated/scanned through a GE system annually in Sri Lanka. This is a significant milestone for us.
Tell us about GE's interests in aviation and railways sectors in Sri Lanka.
We are always innovating and developing products and services that help solve the world's toughest transportation challenges. Be in Tibet, where the average altitude is 4500 metres, or Brazil with sharp curves of 80 meters, the trains are powered with our engines. Sri Lanka's upcountry terrain has similar conditions of high altitude, sharp curves and steep gradient. GE understands the customer requirements and is therefore able to deliver the right product and technology that effectively suit their needs.
GE has extensive experience in design and production of the diesel engines used in the locomotives, which have optimized the fuel consumption, while meeting varied requirements and emission norms
across the globe.
GE offers a varied product line of engines based on horse power rating. For example, the EVO engine used in North America is suitable for 4500HP and FDL engine used in Indonesia is suitable for 2250HP. More than 5000 of such locomotives based on FDL engines are successfully running in countries like Australia, China, Indonesia, South Africa, Mozambique, Brazil and many more. Our design and technology centre in Bangalore and upcoming manufacturing and servicing facilities in India for Indian Railways put us in a strong position to offer our customers in the region with better after-sales support.
With the acquisition of ShipXpress, we took a big bet on developing digital solutions in Sri Lanka for the global transportation sector. It's a strategic step towards our digital journey in Sri Lanka. By combining ShipXpress' cloud-based solutions and GE's industrial-strength software platform Predix, we'll be able to analyse information from our collective supply chain and provide customers in Sri Lanka a data-rich path to ongoing performance improvement.
GE Aviation has been powering the narrow body medium-haul operation of SriLankan Airlines through its CFM56 engine in A320 Aircraft. These engines are covered by OnPoint solution agreement for the maintenance, repair and overhaul.
SriLankan Airlines has also been an early adopter of new technology and taken delivery of the first of its six Airbus NEO aircraft powered by CFM LEAP-1A engine, which is 15 percent more fuel efficient than the previous generation. We are in discussion for more NEOs to be inducted, which will prove to be the backbone of SriLankan Airlines' growth strategy
in the region.
Finally, what are your thoughts on Sri Lanka's current business climate and economic stability?
GE is committed to Sri Lanka and is working towards providing solutions to the country's infrastructure needs. The Asian Development Bank's economic outlook for Sri Lanka's gross domestic product (GDP) growth is 5.5 percent. The country has also undertaken a number of reforms to accelerate economic growth. These reforms are significant in boosting the confidence of businesses operating in Sri Lanka.
GE is known for its compliance practices. How do you ensure that you adhere to the same standards globally?
At GE, we infuse compliance and governance into every aspect of our business in every country. We are proud to have been honoured as one of Ethisphere's World's Most Ethical Companies for 11 straight years (2007–2017), one of only 13 companies out of 124 that have made the list for each year. This achievement directly portrays the strong ethics and corporate citizenship of our business philosophy, which is part of our commitment towards our customers and the country that we operate in. We aim to gear our actions to the dynamics of our markets while measuring ourselves against the best in our industry. It begins with personal commitments from our leadership and is supported by robust compliance processes.