---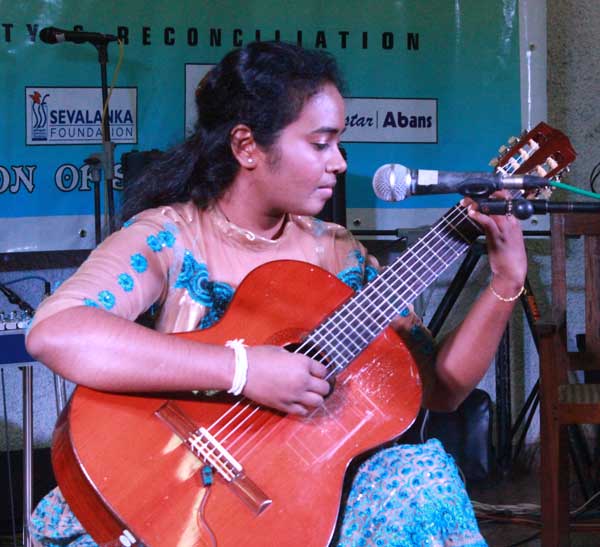 The festival featured a variety of instruments instead of guitar based music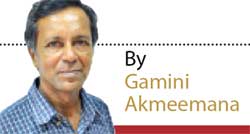 The sixth guitar festival of the Sri Lanka Guitar Association was held at the Royal College auditorium last Sunday. More than 24 musicians performed with instruments ranging from acoustic and electric guitars, pedal steel guitar, flutes, keyboards, drums,SL Guitar Association holds its 6th Guitar Festival piano accordion and even a rarely visible harp, offering a wide variety of music including classical guitar (Western as well as Indian), Hawaiian and blues, jazz, heavy metal and pop ballads.
Over the years, the festival has undergone dramatic changes, including the omission of flamenco guitar performances by students of the University of Aesthetic Studies. But several classical guitar performances including one by visiting Indian classical guitarist Unruksu Raman made up for this loss.
The festival now features a wide variety of instruments, instead of focusing solely on guitar-based music. Guitar Fest came out of the blue six years ago and took everyone by surprise with its bold initiative, generous spirit (it has always been a free-entry event) and tantalizing array of guitar music. This sixth consecutive event shows that it's a continuous struggle to carry on, given that the whole enterprise is based on the cooperation and generosity of individuals. That the event continues to exist and draws crowds is mainly due to the untiring efforts of Mohammad Iqbal, secretary of the Guitar Association and the moving spirit behind it.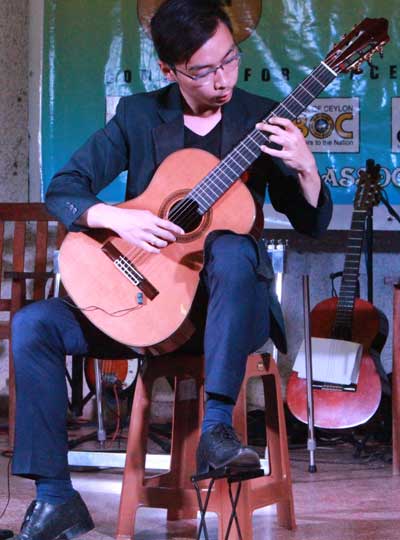 Earlier events featured well-known performers such as Derick Wickremanayake, Anthony Surendra, Kasun Kalhara and Amaranath Ranatunge. The absence of the latter and his flamenco guitar students is unfortunate. But several classical performances made up for that loss this time. More telling was the relative absence of electric guitars, with just three events featuring these indispensable, crowd-pulling instruments. Only heavy metal guitarist Andrew Obeysekara of Stigmata was present out of the regular electric guitar component of the festival, and their absence was noticeable.

But a wide variety of instruments and styles was available to please all discerning music fans, and regular performers such as Japanese classical guitarist Ken Gonzo Sugamata and steel pedal guitarist Rohan Silva with his band were there. The problem was with the way this repertoire was arranged. Things got slack towards the middle and momentum was lost as K. P. Thilangi performed five consecutive classical guitar items. That turned out to be a too much.

She started with Asturias by Isaac Albenez, a perennial favourite; but it was played by three performers, which was overdoing it. Momentum was restored as Thilangi ended her guitar solos and sang two absolutely wonderful versions of the Kasun Kalhara song 'Sanda Tharu Wagay', accompanied by percussion, flute and piano accordion. Dazzling the crowd. She altered the mood of the song with a deft change of key, making the first sound 'minor' and sad, and the second 'major' and brighter. Thilangi is a multi-talented artist and one hopes she will become a regular feature of the guitar festival.

The piano accordion was played by K. P. Thilakaratne, who earlier accompanied Nimal Jayakody playing the sarodh. The guitar festival thus provides a platform for such talented veterans who remain relatively obscure due to the nature of our field of music and media coverage.

Young classical guitarist Unruksu Raman from Manipur, India, played three classical compositions including Asturias and La Taviata (fantasia) by Roland Diaz. Ken Gonzo Sugamata, by now a veteran of the festival, is a natural born entertainer and played bossa nova as well as his own compositions.
Mohammad Iqbal, who composes his own songs in both Sinhala and English, performed two of his original ballads, accompanied by his wife Gayathri Gananathapillai playing Western flute and acoustic guitar. Iqbal's ballads are simple, rhythmic and melodious. Unfortunately, the second was a little too long, as it was the case with talented young performer Madura Gunawardane who played instrumental versions of hymns with his colourful North Indian classical guitar, accompanied by Chalitha Tharanga on tabla. His performance using metal rings as in American blues was stylistically very interesting, but tended to drag and hence tended towards monotony.

Harp music performed by Anslem Fernando, accompanied by Ravi Perara on keyboards, was a delightful surprise. Ravel Craig played mellifluous jazz guitar solos, and the very experienced Andrew Obesekara appeared on stage minus his long time companions but captivated the audience with his heavy metal solo. Rohan Silva played New Ramp, a famous instrumental by the Shadows, followed by a scintillating pedal guitar version of Angelene Gunathilake's song 'Ma Eda' and 'Mexican Rose'. He was accompanied by Sarath Liyanage (electric lead), Wickrama Palliyamulla (bass), Thushara Aluthge (keyboards), Nimal Rohana (drums) and Chinthaka de Silva (acoustic guitar).

It was a fitting finale to this sixth guitar festival. It wasn't without its glitches. A better arrangement of the repertoire plus shortening the length of some items could have made it more interesting. But one understands that this totally voluntary effort has become a herculean task with much responsibility resting on a few shoulders, and the whole effort is highly praiseworthy in a country abysmally lacking in public spirit.