---

We have had very healthy debates in the past and ended up late in the day in high spirits. We've wrestled with very many issues often with disagreements and learnt more than we thought we knew.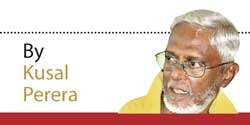 I cannot count even half-a-dozen politicians, who could sit through such long debates like you with patience and with interest.

I have that rare privilege of a gift from you, the book Dreams from My Father authored by Barak Obama- a result of one of those long-debates we had in May 2008.
Who would win the US Democratic Party Primaries and why? I stood with Obama. I do not know of a politician who walks into a bookshop in an airport to buy a book to be gifted in appreciation of a serious discussion he or she was involved in.

I believe you are still that. Yet, this is not for you Mangala, but for the Hon. Minister of Finance.

Today, the context is different from then. Today, I'm openly engaging with you on your popular campaign Gamperaliya for rural development.

As you know, I have had no formal education in the subject area of Economics. But I believe you are quite aware that I am also no fan of this Neoliberal Market Economy.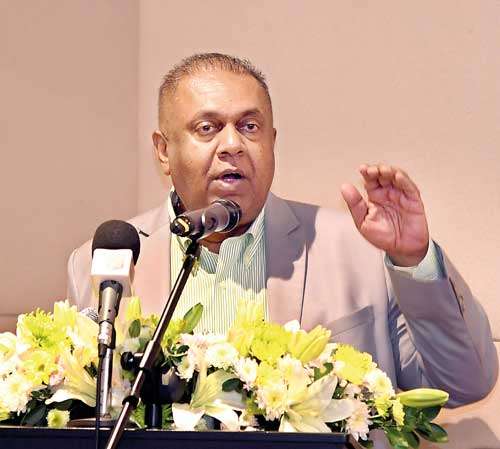 I have often argued that free market economies breed majoritarian extremism as a political necessity, are inherently corrupt and are exclusive "city centred" leaving out rural societies.

I, therefore, dig up a thing that relates to Rural Development in these free market economies and that was my interest in your much-hyped Gamperaliya Programme.
I Love that label of the programme, but not the programme as it is. Reading through media reports and your speeches I understand it has two segments running concurrently. One named Enterprise Sri Lanka and the other linked up with President Sirisena's Grama Shakthi.

Such duplicity in development programmes also proves there is no seriousness in the actual development of rural society.

The Enterprise part of Gamperaliya is said to work towards having 100,000 entrepreneurs by 2020, which is when the UNP expects to run its own Presidential Candidate after skipping the two previous elections.

The strategy in creating those entrepreneurs is to offer 15 loan schemes under three categories to the business sector and rural society from agrarian based loans to women and youth.

It is common knowledge that selections for such State Patronage at the local level would be very much politically influenced and would remain so.

While it is said, State Banks would have a special PR desk to handle these loans, there is no mention of how 'use of these loans' would be regularly monitored and supported, when necessary.

Am I to presume therefore the year ahead would be when a 100, 000 families would be doled out money as "loans for business" before the expected 2020 Presidential Election?

The State would be left responsible for a substantial part of payback as you have said at the launch of Enterprise Sri Lanka.

The other segment of Gamperaliya that would be carried out with President Sirisena's Grama Shakthi is to focus on village infrastructure; development of water tanks, anicuts, green parks, free Wi-Fi, rehabilitation of small religious places, village roads and the like.
Your Gamperaliya is not about improving the quality of rural life but is about pumping money into rural society to help catch votes
It was also reported, the Moneragala District, from where the Gamperaliya began five days ago, was allocated Rs. 500 million for the construction of 25,000 toilets for families without such facility.

I doubt anyone has actually done a field survey to enumerate these numbers. If there had been any, could details of "would be recipients" be made public, before the money was doled out?

I bet it would not be done at any time and am I to believe this would also be another dole of Rs.20, 000 for each of these families before 2020 Presidential Elections?
Mr Minister, as you and I know quite well, these recipient numbers are almost always made up for very narrow politics of individuals.

You and I know that right down to the GS Niladhari, the whole district administration, as a rule, is corrupt, inefficient, lethargic and heavily politicised.

That said, can I ask you, how different is this total programme for all previous efforts made in developing rural life?

With the opening up of the economy without any restrictions on import and export trade, the first planned effort in rural development was through Integrated Rural Development Projects, the first, launched in 1978 in the Kurunegala District.

Thereafter, for over two decades, IRDPs were carried out in most Districts other than in the Western, Northern and Eastern Provinces.

All of them ran into double phases with at least eight consecutive years. They were all foreign assisted, with NORAD providing most funding.

And they included almost all that you have in your Gamperaliya Development Programme. Yet, all IRDPs were complete failures.

IRDPs not making any impact on poor rural life, more and more young rural women were seeking migrant employment as housemaids in the Middle East for a pittance.

Thus around 1998, IRDP was turned into Rural Enterprise Advancement Programme (REAP) that focussed on business efforts of rural society, not very different to your loan schemes for 'entrepreneurs'.

REAP folded up with two district programmes; the first being in Matale. Designed and planned in Colombo and implemented through district State Administration, they all proved total failures.

I would suggest that you read a very comprehensive study on Sri Lanka's IRDPs done by Norwegian 'Specialist' Reidar Dale, titled Organization of Regional Development Work published by Sarvodaya to familiarise yourself about issues on the ground and for some good reasons as to why they should not be done the way you have programmed.

Apart from Governments, there are many NGOs with foreign funds including ONUR that focus on livelihood development of rural societies.

For many decades they have organised microcredit programmes that mainly focused on women and youth, a social segment you have also stressed upon.

Most such NGOs have used ILO sponsored SIYB and GIZ (then GTZ) designed CEFE, two training programmes to develop rural entrepreneurship, with grants attached.

I believe these programmes would have trained many thousand micros and small business leaders in rural societies over the past many decades.

But hardly any had prospered to live profitably after funded projects concluded.

Proof of failure is the launch of direct poverty alleviation Programmes: Janasaviya, Samurdhi and now your Gamperaliya with Grama Shakthi, implemented to address decades-old issues with the same old approach and answers.

The fault is in how Rural Development is being understood and in how it is being approached within this free-market economy.

Mr Minister, to understand Rural Development one has to first define what Development at a holistic level is. Development is not just a growing economy.

That is how this Free market economy, with Neoliberal jargon, interprets development in an insanely competitive market economy.

But Development is all about improving the quality of life. Quality of life is not ONLY about money and income.

It is about earning enough income within 07 or 08 hours a day in a 05-day working week, to spend not only on adequate daily consumption, services and for saving, but also have a wallet that would allow recreation and cultural life both for his or her family and for him or herself.

This was not what was talked about as development since 1978 when IRDP/REAP were designed, planned and implemented. It isn't even now.

Rural development needs planners who can speak the same language as villagers do, know the taste of what they eat, have sat through the night in a rural hospital without a bed and no medical doctor visiting, felt the heat of the sun and seen how they toil for a pittance.

What is also not being paid attention to is the fact that paddy cultivation, which is more cultural than economic, leaves a large percentage of rural agri-labour under-utilised for over six months of the year, with Maha Season being the most extensive paddy cultivation season of about four-months duration.

This under-utilised labour can only struggle through life. It is worse when most essential and efficient services the State is held responsible for, formal education, preventive health and hospital facilities, public commuting and cheap energy sources, apart from cultural and recreational facilities were totally absent in all rural development programmes and is no different in Gamperaliya as well.

How can there be a prosperous revolt in the village without any of them being given priority?

Sadly, your Gamperaliya too is not about improving the quality of rural life but is about pumping money into rural society, a political gimmick every Government politician think could help catch votes.

Forty years within this free market economy, whatever money pumped into rural society, has ended up getting accrued in the most economically patronised Colombo City. That Mr Minister needs serious changes to your Gamperaliya programme and in the free market economy too.

Wish you have the courage to initiate such radical change.