---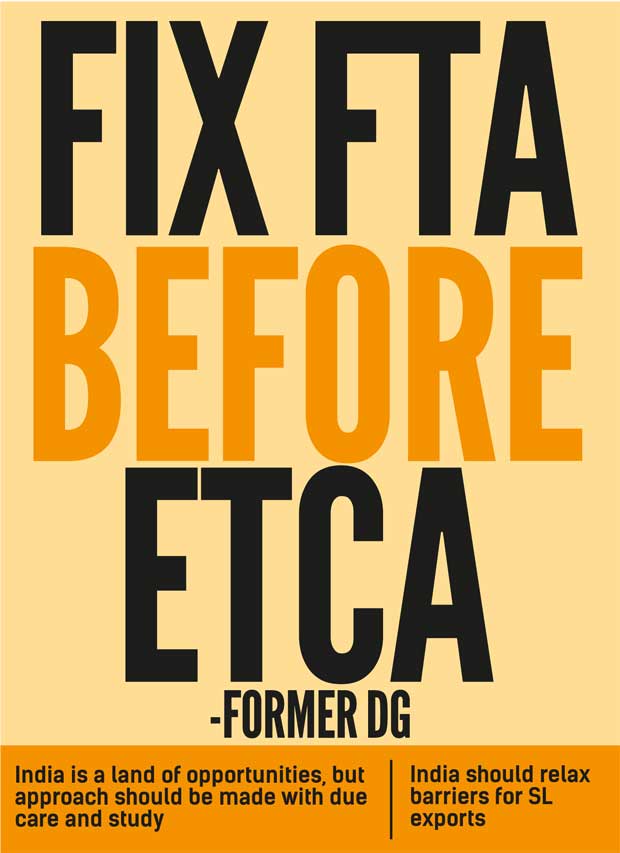 Former Director General of Trade and Commerce P.D. Fernando, who dealt with transnational trading said the Government should sort out shortcomings in the Free Trade Agreement (FTA) with India before opting for a broader agreement such as ETCA. Asserting that Indian market should be accessed, he said it should be done with due diligence as otherwise the country would fail. Excerpts of the interview: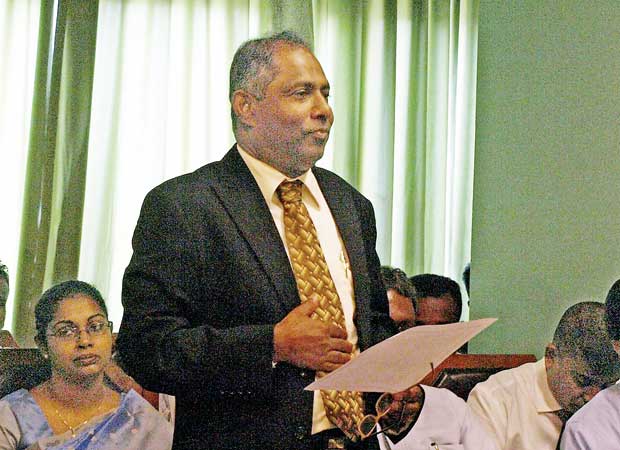 As the former Director General of Trade and Commerce who dealt extensively with international trade, what are your views on the proposed Economic and Technology Cooperation Agreement (ETCA) with India?
ETCA is important for us. The problem is not ETCA. Having an ETCA can be useful to Sri Lanka, only if it is handled properly. My worry is that the Free Trade Agreement (FTA), which is already in operation between the two countries, is not properly handled. Let alone signing the ETCA, the FTA has lapses. I do not see whether we have learnt our lessons to be considered in going for a mega agreement. What we have to do is to carry out a proper evaluation of the FTA -its gains and losses. Then, we can plan for a broader agreement. The message is there. The Indian market is very important for us. It is a huge market. Only because it is huge, we cannot turn to it on ad hoc arrangements. We have to go for it with proper planning and objectives. We must know in advance the possible results of such a broad agreement after implementation. I do not see it for the time being.

You said that the FTA was riddled with shortcomings. Why did we fail?
We had a series of problems after our exporters started doing business with India. It is very unfortunate that the Government of Sri Lanka or the Government of India were able to resolve those issues. Most of the people are now fed up. They do not even come forward to explain their grievances. They say it is not worth. Hence, they look to other markets elsewhere. I know we had a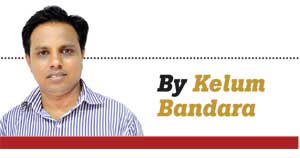 Sri Lanka Trade Centre in Chennai. We had our entrepreneurs. Some Sri Lankan entrepreneurs, competent to secure entry to foreign markets, went there. Barring one or two, the others returned. Other industries should have flourished in India. It did not happen though. It is not because of our quality problems. The restrictive attitude of the Indian authorities impacted them.
Cosmetic products, herbal medicine, biscuits, rubber products, electric switches, MDF boards, processed cocoa powder, fruits and all failed due to unfair barriers. We do not know how Damro succeeded. Its repatriation of profits is not known to me.
Our Government does not support local industries like India does, but face anti-dumping. Our standards are internationally accepted but face barriers in India

How do you specify other problems?
We exported fruits to India. Yet, exports did not proceed beyond Customs clearance in India. Indian importers said OK for such products from Sri Lanka. But, the Indian Customs blocked it.

Now, what we export to India is also manufactured in India. Therefore, it is natural for us to meet with such resistance. The problem is the non-diversification of our manufacturing sector with more export oriented items. What are your views?
This is another important point. Now, we export tea. It is also manufactured in India. If market restrictions are removed, we can easily sell our tea in the Indian market. We have failed, not because of India also manufacturing tea, but due to the absence of free market entry. We export chicken sausages to India. It is a good example. Can you imagine that we export such animal products to India?
Sri Lanka is a small country. Even if our entire produce goes to India, it will be minuscule in the huge Indian market. It is like a drop in the ocean. India should relax their regulations for us. They should allow some exports from us to bridge the huge deficit to a certain extent at least. They should respect us for the volume of products we buy from them. Sri Lanka is India's tenth largest importer.
India is making the same argument with South Korea. When India goes to Korea, they ask for more exports. There is a trade deficit. You must buy something from us. That is what India asks South Korea. Then, Korea agrees to buy Indian mangoes. Despite legal barriers involved in mango trade with India, Korea considers it. We too have to ask it from India. It is not unfair.

What is the procedure you propose to follow when signing an agreement such as ETCA?
First, a proper study should be done on the FTA already in operation. For the last 20 years, we have had it. We have to analyse its lapses. It is not fair to say that India produces the same, and therefore we do not have a market there. There are so many items which we can export to India. We can even export chocolate, biscuits and water pumps to India. Indian market is huge. Despite manufacturing there, we still find a market. It is our neighbouring country. Some people say our cost of production is very high, and as a result, our products are not sellable in India. I do not agree with it.

The other argument is that other countries do successful business with India. Then, why have we only failed?
This is another area we have to study. A proper study is needed as I stressed. We have to study why we failed and other countries succeeded. Within the framework of FTA, we can do more trading with India. Why are we not using it? Our exporters are not using it because they are fed up.
An Exporters' Forum is needed to decide what should be done. Sri Lanka is a small country. If we treble our exports to India, it will still be very little in India. When a small nation strikes a trade deal with a big nation, it is not expected to make major commitments. Small countries make lesser commitments and big countries major commitments. When there is a trade deficit in favour of a big country, more and more exports should be accommodated from the small country concerned. This is not happening. These issues have to be addressed before going for a major agreement at this hour.

How do you say that the present government is not forging ahead with the ETCA without any study into the matter?
I have never read it anywhere. I have read a couple of papers based on very narrow and raw statistics. These are general statements. This is not the way to analyse the results of trade agreements. But, India has done proper studies regarding trade agreements they signed with others. They have done a very good study into their agreements with South Korea. This is a good eye-opener for Sri Lanka. I advise all concerned to read what India is doing actually. In our case, we should not blame India. It is the fault of us. For information, we need to have posted proper ambassadors to those countries. You see how the Indian High Commissioner is appearing for his country's businesses in Sri Lanka. Have you heard about our envoys doing the same for our businesses?
Our envoys must push for what we want, not what India wants.

But, India is projecting itself as a land of opportunities. How true is it in your view?
Yes it is. Yet, the problem is how we approach it. If we make the approach blindly, we will fail. We have to do professionally. We have to be result-oriented. We should do constant studies. Some countries have been successful with India because they had systemic approaches. India is a powerhouse. We cannot ignore it. It is an important trading partner. If we mishandle it, then it will bring in negative outcomes
Apart from ETCA, what is your opinion on trade pacts with other countries?

I think we should simultaneously negotiate trade agreements with countries such as China. We have a trade deficit with China. We must turn to Japan and South Korea as well. Also, we should look at regional agreements such as Regional Comprehensive Economic Partnership (RCEP). In the process of negotiating this agreement, Sri Lanka, Bangladesh and Nepal have been left out. We should try to be accommodated in the process. If we are bilateral trading partners with China, Japan and South Korea, they will help us to become party to RCEP. Then, the entire region will benefit from Sri Lanka, given our strategic location. It is an honourable partnership. We can use our strategic location to be an important trading partner with the region.
qBefore signing any agreement, what are the areas to be corrected in the domestic front?
We have to put the house in order. We must bring the necessary mechanism needed to gain from any agreement. We must have a proper trade policy. We must have consistency. We must get the private sectors to project. We have signed bilateral agreements with India and Pakistan. The Government of Sri Lanka went all over the world and marketed these agreements seeking investment for the country. Look! We have agreements with India and Pakistan. If you invest in Sri Lanka, you can do trading with these two countries. That is what we said. How many foreigners accepted it? Foreign investors know well that though we have bilateral agreements with these countries, exporting is not easy. We must put our house in order.

When you refer to putting the house in order, what do you expect the Government to do?
We must learn from India itself. India has a mechanism to monitor these agreements. They have consistent trade policies. They have a very good backup for local entrepreneurs. They have a good protection scheme against unfair trade. Most import items in Sri Lanka are substandard in quality. When Sri Lankan traders are affected by illegal trade practices, we have never fought a case in the World Trade Organization. We have been suffered by illegal anti-dumping duties. These mechanisms have to be there in place.
We do not have enough experts on international trade law. We need such persons for litigation. Indian chillies are rejected in foreign countries on Aflatoxins (Any of a class of toxic compounds that are produced by certain molds found in food, and can cause liver damage and cancer-Wiki) and excessive chemical residues, but they are not tested and rejected in Sri Lanka.

How do you view the opening of service sector under the proposed agreement?
I am not an expert on service trading. What I can say is we do not have any idea about service trading, its strength and all. We have our Information Technology industry. Goods trading can be accounted for. Do we have mechanism to account service trading? What is the device we have? Sri Lanka has not developed a mechanism for it.