---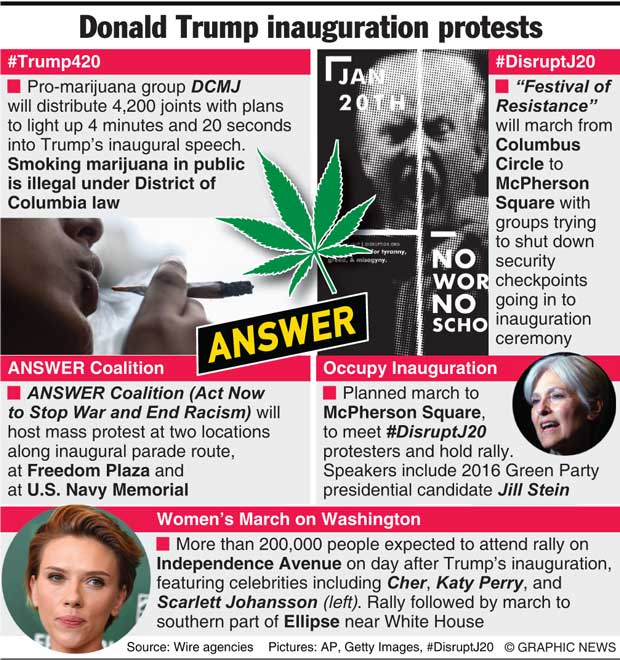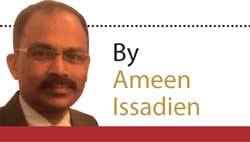 In a few hours, the United States will have a new president and it is becoming more than clear that the world order will be chaotic from today, though, driven by the spring of optimism in human breasts, we may inclined to say "give him a chance."

Perhaps for the first time in 53 years since the assassination of John F Kennedy, the United States will see a president who will be defying the conventions set by the establishment which includes the intelligence community and the political elite. Donald John Trump, the 70-year-old maverick property tycoon, is a runaway president and putting him on the track to toe the establishment's line will be no easy task.

Kennedy took matters of governance into his hands and defied the establishment. He was killed. This is not to say that Trump will be done away with or the establishment killed Kennedy.

However, the Trump team takes the threat to the life of the President-elect seriously and the security is tight for today's inauguration which is expected to draw more than a million people, including supporters of Trump and protesters who see him as a threat to democratic values and his victory illegitimate.

Trump seems to believe that he has the solutions to fix the world's problems. He will interpret the US national interest the way he wants, not the way the establishment wants. Predicting his policies will be more a case for psychologists than for political analysts. The outgoing president, Barack Obama had a vision to bring about a world order based on peace and justice and a domestic order based on a welfare system to help the less privileged. But he meekly compromised his principles in the face of opposition from the establishment.

Anti-establishment Trump won't be like Obama or his predecessors. Thus, for the first time in the post-World War II US history, the US-led global order has been destabilised by an avalanche of uncertainty. Since the political earthquake of November 8, the aftershocks have not ceased. Not knowing what the world order will be like from noon Washington DC time today (Sri Lanka time 10.30 pm), world leaders have virtually deferred policy decisions on major issues, perhaps hoping it won't be darkness at noon.

Just days ahead of his inauguration, world leaders, both friends and foes of the United States alike, were served a starter and it indicated the taste of things to come under the presidency of Trump.
In a combined interview on Monday to the London Times and German newspaper Bild, Trump outlined his foreign policy blueprint – the world, according to Trump. But it only increased worries of world leaders. In particular, Trump's view of European security and his flirtations with Vladimir Putin's Russia added to their fears. Who else but Russia will be happy to hear the president-elect describe Nato as obsolete because it was "designed many, many years ago" and that other countries "aren't paying what they're supposed to pay."

He also slammed the European Union, calling it a construct to take jobs from the United States and being a vehicle for Germany while hailing Britain's decision to exit from it.

Only a week ago, Trump was in the centre of a controversy over his alleged links with Russia. Analysts raised questions whether Trump will be a president beholden to the Russians. This was because a dossier prepared by a private investigator claimed that the Russians had secretly taped Trump's sex romp with prostitutes at a Moscow hotel. No other country than Russia wants Nato disbanded. Russia has taken military action twice – in Georgia in 2008 and Ukraine in 2014– in a bid to stop Nato's eastward expansion.

Trump's attack on Nato came even as tensions were on the rise in eastern Europe. The US and its Nato allies have sent reinforcements to Poland and the Baltic region while Russia has moved in nuclear-capable missiles to Keliningrad bordering Poland.

Although rattled by the Trump interview, the United States' European allies still keep some hopes, especially because of the assurances that the secretary of state designate, Rex Tillerson, and the secretary of defence designate, James Mattis, had given during their Senate confirmation hearing recently. They said they would continue to work with Nato to check Russia.

As regards Russia, Trump told the interview, "Let's see if we can make some good deals with Russia." He was holding out the prospect of lifting the US economic sanctions on Russia in exchange for nuclear arms reduction deals. The sanctions were imposed on Russia following its annexation of Crimea in 2014. Nuclear-arms-reduction deals are a big charade. They are as insignificant as reducing the barrel length of the AK 47 or M16 by a centimeter. Even if the United States and Russia eliminate 50 percent of their nuclear arsenals, they can still destroy the world many times over with their remaining nuclear weapons. Total nuclear disarmament is a fool's dream.

Talking about nuclear weapons raises another vital question. With Trump being an 'I do it my way' president, can the world trust him with 4,500 nuclear warheads? Going by his hubris, he is unlikely to take 'No' as an answer from less powerful states, where the US has strategic interests. He has already warned that the United Nations will be a different organisation from today.

Trump's policy on the Palestinian issue – recognising occupied Jerusalem as the capital of Israel – will only add to the mayhem in the Middle East, though he may cooperate with Russia to take on Isis and end the Syrian war. Moreover, with Trump at the helm of world affairs, rightwing neo-Nazi populist leaders will have a field day, with human rights concerns becoming a non-issue while humanitarian assistance to refugees escaping wars will be scoffed at.

The next big question mired in uncertainty is: How would he respond to China over the disputes in the South China Sea or if Taiwan, emboldened by Trump's friendly gestures, declares independence? China's state-run Global Times on Wednesday called on Beijing to be prepared to face the new challenges. "…if Trump stirs up strategic challenges, China needs to change its way of thinking strategically. Preparing for the worst-case scenario will give China more initiative."

The newspaper which usually reflects the leadership's views also said China may have to improve relations with some countries "so as to have more leverage in its game with the US". Sri Lanka needs to take note of this.

After its interviews on Monday, the Times wrote: "Mr. Trump does not feel constrained by ideology or history" while the Bild noted, "[O]nly one thing can be said with certainty: Nothing is safe with him. No political rule, no diplomatic custom, no inviolable certainty."
A Trump presidency will be an enigma, if not one of chaos.