---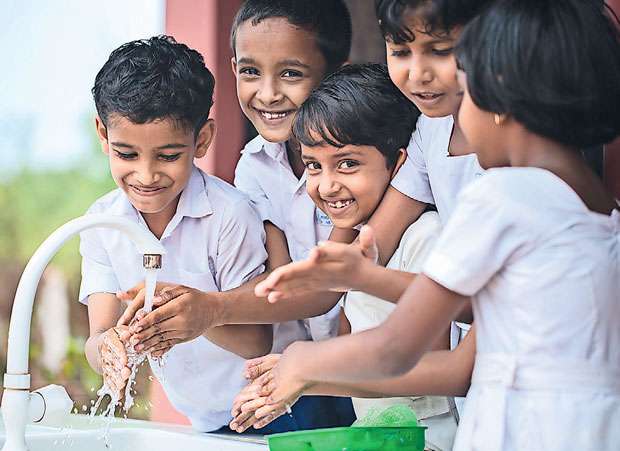 Naturally everyone born in this society has to pass through a number of stages such as infancy, childhood, youth, middle age and the old age provided of course one remains alive without facing death immature. During the infancy and the feeble old age one has to depend on others for survival. Life circle is such that babies in the human world and the offspring in world of animals depend on their parents for survival.. Old and feeble grandmothers and grandfathers depend on their sons and daughters and grand children. If they are not kind enough on their part for the sake of the feeble lot one has to seek the assistance of social institutions such as homes for elders,
According to Buddhism birth is suffering, decay is suffering and death is suffering. One has also to suffer from ill health. This means that there is less suffering during childhood, youth and middle age. Childhood and the early young age are the periods when one prepares for worldly life. Children today are responsible citizens tomorrow. As such childhood is the prime period of one's life.

Much needed preparation to be useful citizens in the future
Childhood is the period of learning. Since children are future citizens of the world the fate of the future world depends much on what the children learn today. Member countries of the United Nations have affirmed their faith in fundamental human right, dignity and worth of a person and have determined to promote and better standards of living in an environment of larger freedom.

The United Nations has in the Universal Declaration of Human Rights proclaimed that everyone in this world is entitled to all the rights and freedoms set forth therein, without distinction of any kind such as the age, race, colour, sex, language or other opinion , national or social origin, property, birth or other status

What the child needs most
The child by reason of his or her physical and mental maturity needs special safeguards and care including appropriate legal protection before and after birth. The United Nations General Assembly proclaims the rights of the child to the end that he or she may have a happy childhood and enjoy for his or her own good and for the good of the society the rights and freedoms and calls upon the parents, upon men and women, upon the voluntary organizations, local authorities and national governments to reorganize these rights and strive for their observation by legislative and other measures progressively taken in accordance with the declaration.
The child by reason of his or her physical and mental maturity needs special safeguards and care including appropriate legal protection before and after birth
Entitlement of the child to rights without distinction or discrimination
Every child is entitled to these rights without distinction or discrimination on account of race, colour, sex, religion, political or other opinion national or social origin property, birth or other status whether of himself or herself or his or her family.

The child shall enjoy special protection and be given opportunities and facilities to enable him or her physically, mentally, morally spiritually and socially to live in a healthy and normal manner and conditions of freedom and dignity.

The child shall be entitled from his or her birth to a name and nationality and shall enjoy the benefits of social security. He/she shall be entitled to grow and develop in health. Special care and protection shall be provided both to him/her and his/her mother including prenatal care. The child shall be entitled to adequate nutrition, housing, recreation and medical services.

Care for physically and mentally handicapped children
There are children who are handicapped physically. There are deaf, blind and dumb children There are also deformed children sometimes without limbs and not able to move about. Further there are mentally handicapped children. Arrangements should be made to enable them to gain admission to special institutions such as schools for deaf and blind and their inherent rights for care, love and education etc. should not be denied to them.
Sri Lanka has been ranked high in the achievement of education in terms of high literacy
Children from underprivileged families
Further, there are socially handicapped children such as those from poor families. There are some other children who are socially marginalized for various reasons not due to any fault of their own but due to the reasons of being born to families not cared for by civilized society. Children are born to families with income below the average. Such children should not be denied their legitimate right to nutrition, love, care and education.
Society and the public authorities shall have the duty to extend particular care for children without families and for those without adequate means of support. A payment made by the State and other assistance towards the maintenance of children of large families is desirable. Family income can be considered as a criterion in granting scholarships.
Much needed love, affection understanding and recognition
The child is entitled to receive an education which will be free and compulsory at least in the elementary stages. He/she shall be given an education which will promote his/her general culture and enable him/her on a basis of equal opportunity to develop his/her abilities, his/her individual judgment and his/her sense of moral and social responsibility and to become a useful member of the society.
The best interest of the child shall be the guiding principle. The responsibility of those responsible for his/her education and guidance lies in the first place with his/her parents.

Children who are deprived of their right to learn
It is true that the literacy rate of Sri Lanka is high when compared with the literacy rate of other countries in the region. However, a survey conducted by the department of Census and Statistics has disclosed the fact that six percent of the children in the school going age are not attending school. Some of them have just reached the school going age and presumably most of them will start schooling when once they find accommodation in schools. Twenty percent of these children or 1.2 per cent of the school going age have never gone to school and 4.8 percent of the children in the school going age or 80 per cent of those who are not going to school are dropouts.

Returners and Never Returners
A large number of students terminate their school education after taking up the G.C.E. (O.L) Examination. Some of them resume school education once when they pass the G.C.E. (O.L) Examination with grades sufficient to make them eligible to attend G.C.E.(A.L) classes. As such some children terminate school education permanently while others stay back temporarily.

Children who are deprived of preliminary education
About 83 percent of the children who never attend school are comprised of the five to eleven year age group which is the age of preliminary education. Majority of these types of children are found in the urban areas. Further the extremely poor parents especially in the remote areas cannot send their children to school because they need their assistance to look after the others younger to them while the parents work in places away from home. Further in certain remote areas there are no schools. Eighteen percent of the children belonging to the 05 to 11 year age group do not attend school due to their unsatisfactory health conditions and physical disability.

Educational facilities for children in Sri Lanka
Sri Lanka has been ranked high in the achievement of education in terms of high literacy, high level of primary school enrolment as well as gender parity rate in access to education and achievements. When compared with other countries in the region there are still unfortunate children who had never stepped in to a school.

Sons and daughters of separated parents, pick pockets thugs, drug addicts, gamblers and beggars are often deprived of school education. Separated parents, especially when they are poverty stricken try to pass the responsibility to the opposite party and ultimately no one comes to the rescue of the children. Similarly robbers, gamblers and drug addicts take no interest in the education and well-being of the children. Beggars often train their children in the art of begging.

Physical education and recreation- "All work and no play makes Jack a dull boy"
General Education should be supplemented by physical education. The child should have full opportunity for play and recreation which should be directed to same purposes as education. Society and the public authorities shall endeavour to promote the enjoyment of this right.

Protection against all forms of neglect, cruelty and exploitation
The child, in all circumstances should be among the first to receive protection and relief. The child shall be protected against all forms of neglect, cruelty and exploitation. Children of underprivileged, uneducated and uncivilized parents are vulnerable to neglect, cruelty and exploitation. Deficiencies, shortcomings, insufficiencies, stubbornness and other weak qualities in a child should not be regarded as causes for a child to be cornered, neglected. harassed or punished. Opportunities should be made available for such children to get over the difficulties and to correct themselves. Children should never be humiliated. The consequences of humiliating children can be explained by way of an illustration.

Overdoses of punishments
A teacher of a school who was also the warden of the boys' hostel of that school had forced a student to eat all the food prepared for forty students as a punishment for early consumption of some food. The victim had to consume the food in the presence of the other students. The culprit went on eating seventeen "Rotti" when the assistant warden requested the chief warden to mitigate the punishment. The victim who was a fifth standard scholarship holder left the school and the hostel forever and it was the end of his school career.

Child soldiers – Proscription of children for offensive conflicts
The child should not be admitted to employment before the approved minimum age. He/she shall in no case be caused or permitted to engage in any occupation or employment which would prejudice his /her health or education or interfere with his/her physical, mental or moral development. It is not a secret that during the war Tiger terrorists had proscribed teenagers and even children below fifteen years of age as child soldiers in their military activities. In spite of warning by the international community Tiger Terrorists continued to destroy the blooming buds by proscribing them forcibly.

How Buddha looks at the children
Children are investments being made for future use. According to Singalowada Sutta it is the responsibility of elders to bring up children well to be useful citizens in the future. Parents are expected to bring up their sons and daughters according to Brahaminic living imbued with four virtues of Metta (friendliness), Karuna (compassion),Mudita (satisfaction)and Upekkha (impassiveness)to prevent their children from committing acts of sin and violence, to direct them to the correct path, to educate them, to give them in marriage and to gift them the endowments in proper time.

Duties and responsibilities of children
Children are expected to look after their parents during their old age, to respect them and to maintain the fame and prestige earned by their parents. Children should also win the hearts of other elders including the teachers and preachers. They should educate themselves and grow as useful citizens according to the wish of the parents, teachers and other elders.