---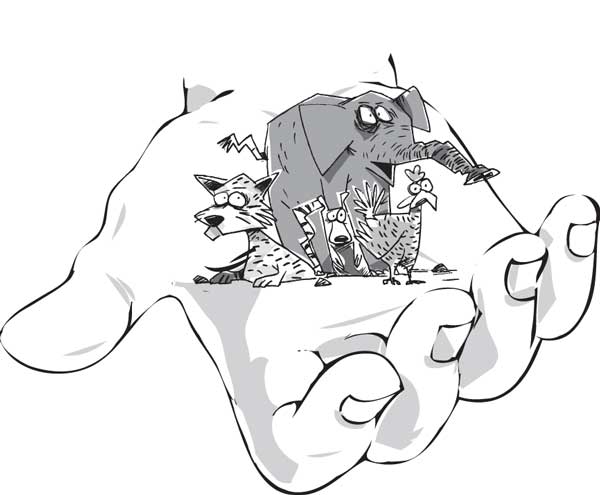 Fifty years ago, when our eyes had still not been opened to the catastrophe of environmental pollution and global warming, the well-known singer Matt Monroe gave the world an immortal environmental song titled 'Born Free' which was later turned into a film and won the Academy Award for the best original song. With the lyrics composed by Don Black, the song is considered as prophetic as we mark World Environment Day tomorrow. The song goes like this. So sing along - "Born free, as free as the wind blows, as free as the grass grows, born free to follow your heart; Live free and beauty surrounds you, The world still astounds you, Each time you look at a star; Stay free, where no walls divide you, You're free as the roaring tide, So there's no need to hide; Born free, and life is worth living, But only worth living, "Cause you're born free".

The 2016 World Environment Day theme is "go wild for life; zero tolerance for the unscrupulous wildlife trade,". According to the United Nations Environment Programme (UNEP), the booming illegal trade in wildlife products is eroding the Earth's precious biodiversity, robbing us of our natural heritage and driving whole species to the brink of extinction.

The killing and smuggling are also undermining economies and eco-systems, fuelling crime cartels, and feeding corruption and insecurity across the globe. Wildlife crime endangers iconic elephants, rhinos, tigers, gorillas and sea turtles. In 2011, a sub-species of Javan rhino went extinct in Vietnam, while the last western black rhinos vanished from Cameroon the same year. Great apes have disappeared from Gambia, Burkina Faso, Benin and Togo. Other countries could quickly follow. Lesser-known victims include helmeted hornbills, pangolins, wild orchids and timbers like Rosewood. Flowers and timber are also considered wildlife, UNEP says.

In Sri Lanka during recent years hundreds of elephants and people have been killed in what is described as the human-elephant conflict. While there are various sides to this crisis, those who are aware of the vital need for bio-diversity say selfish, greedy and wicked groups have robbed the traditional jungle homelands of the elephants and set up various projects. So when the hungry elephant—the majestic king of our jungle—comes in search of food, we descend to the crude vulgarity by calling it a rogue elephant.

President Maithripala Sirisena, who as Environmental Affairs Minister, has committed himself to the protection of the environment, bio-diversity and the eco-balance, gave orders this week that housing or other projects set up in the elephant's jungle homelands must be moved out by at least 500 metres. He assured that alternative sites would be given for these settlements or projects while the elephant homelands would be re-forested and protected. While at least two prominent personalities are being charged with illegally keeping elephants as domestic pets, the President said this week he had made arrangements with the Myanmar government to bring down elephants required for major Peraheras so that other elephants could live freely in the jungle homelands where they were born free.

If you need to be shocked into action for world environment day, here is a staggering or shameful fact. From 2010 to 2012, some 100,000 elephants were killed worldwide for their ivory. As mentioned in our May 19 editorial, plant diversity and endemism in Sri Lanka are quite high. Of 3,210 flowering plants belonging to 1,052 genera, 916 species and 18 genera are endemic. That means they are found only in Sri Lanka. All but one of Sri Lanka's more than 55 dipterocarp (Sinhalese "Hora") are found nowhere else in the world. Sri Lanka's amphibian diversity is only becoming known now. Sri Lanka may be home to as many as 140 species of amphibians. More than 50 known freshwater crabs are confined to Sri Lanka.

In this paradise of biodiversity, there are thousands of species of fauna and flora that play their own roles in maintaining the beauty and balance of Mother Nature. They all were born free. Let us commit ourselves so that they could live free and stay free.