---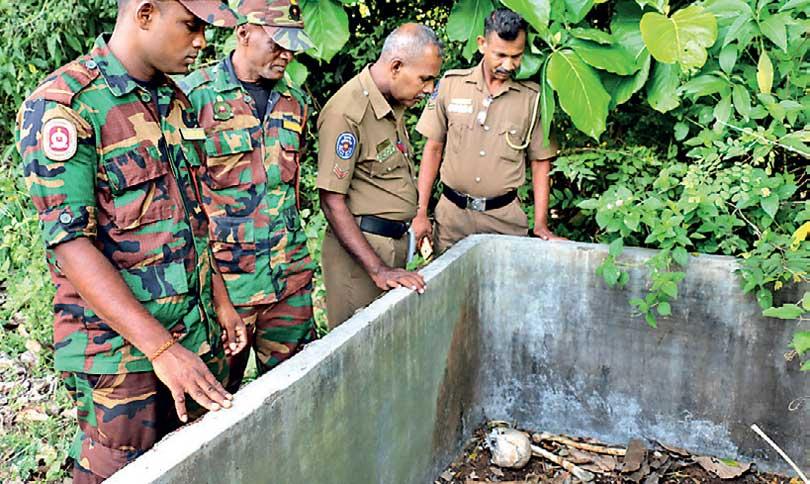 By Atula Bandara
A suspect wanted in connection with the death of a woman was identified and arrested by Anuradhapura Police several months after the incident.
A team of Police Officers recovered the skeletal remains of a woman who was found to be murdered, from the water storage tank in an abandoned livestock farm and were conducting investigations to arrest the killer.
The deceased was identified as K.G. Theja Nalani (30) of Kitulhitiyawa, a mentally handicapped woman, who had sneaked out from home about seven years ago and resorted to begging in the Anuradhapura Town.
The Police suspected a man, who lived with her over the killing.
The suspect who made a livelihood by collecting and selling scrap had earlier been convicted to eight-year imprisonment for raping his own daughter. After his release from prison, he was rejected by his wife.
Later he had been living with the beggar woman in a dilapidated building in the abandoned livestock farm and working as a manual labourer.
However, both of them used their earnings for liquor. During an altercation after drinks, he had pushed her into the water tank. The suspect who fled from the area after the incident was arrested during a raid in the Anuradhapura Town.
The Police said that under interrogation the suspect had revealed his involvement in
the killing.
A Police team under OIC Crime Investigation Branch IP Gayan Smaakoon and SI G. Vidanagamage had conducted investigations on the instructions of SP Thilina Hewapathirana and DIG Senerat Sandungahawatte.