---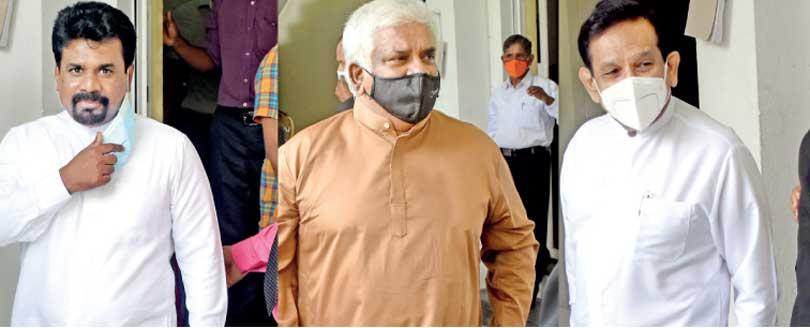 Former MPs Rajitha Senaratne, Arjuna Ranatunge and Anura Kumara Dissanayake seen soon after attending the PCoI sittings.
Pic by Kushan Pathiraja
By Ajith Siriwardana
Several respondents including former MPs Rajitha Senaratne, Arjuna Ranatunge and Anura Kumara Dissanayake, testifying at the Presidential Commission of Inquiry (PCoI) on political victimisation in the Avant Garde case raised objections on the PCoI's jurisdiction to hear this case.

They said the PCoI was appointed to look into alleged political victimisation of public officers and that it was beyond its mandate to take up the case on the basis that Avant Garde Chairman Nissanka Senadhipathi, who is a complainant was not a public officer.

Mr. Dissanayake said though noticed to appear before the PCoI he was not informed the reasons for being so noticed and requested the PCoI to provide him with the statements and documents which had led to him being summoned.

"There are two legal issues here. One is that the commission has no mandate to take up the Avant Garde case because Mr. Senadhipathi is not a public officer and the other is the statement made by the Attorney General with regard to the case being heard by the PCoI," he said and added that the Avant Garde was only an institution that had taken over a state institution.

PCoI Chairman rejected the objections saying the case is being taken up as it was within the mandate of the commission and fixed the case for June 26.

Dr. Senaratne who spoke to the media outside the PCoI said he was not the minister of Law and Order or Defence Minister to be summoned by the PCoI and that government received a profit of US$ 1 million after taking over the institution.

Mr. Dissanayake told the media that the Rajapaksa government was trying to disrupt the anti-corruption campaign launched by the JVP and that it could not be prevented just by summoning to presidential commissions.