---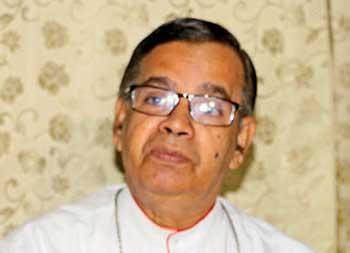 By Atula Bandara
The Bishop of Anuradhapura Rev. Fr. Norbert Andradi stressed that priority should be given to the ongoing campaign to save the nation from the threat of the Coronavirus instead of holding the
general election.

He told the media at the Bishop's House in Anuradhapura that the general election was a democratic right of the people but the main responsibility of all those concerned was to save the people from the threat of the coronavirus that has been looming large for more than four months.

The Bishop pointed out that the Sri Lankan authorities had been able to work out a far more effective mechanism to control the spread of the disease when compared to the developed nations. He pointed out that the government, the health authorities including the Minister of Health, the doctors, nurses and employees in the health sector, the police and the security forces would deserve the respect of the entire nation for their dedication to eradicate the virulent disease, bringing down the death rate to the barest minimum.

However, he warned that all their efforts would be in danger if steps were taken to hold the general election in a hurry.

"Coronavirus is the most formidable challenge facing the country. The dreaded disease should be eradicated with the concerted effort of all those concerned before holding the general elections," the Bishop said.

He further said he was hopeful that the government would take stock of the prevailing situation and act with a sense of responsibility.
priority should be given to the ongoing campaign to save the nation from the threat of the Coronavirus instead of holding the general election