---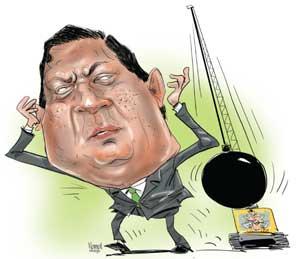 By Kelum Bandara
Former MP and Colombo District UNP candidate Ravi Karunanayake yesterday held former President Maithripala Sirisena responsible for splitting his party. In brief remarks to the media, he said Mr. Sirisena first tried it unsuccessfully in 2018 by forming the 52-day government and roping in members of the UNP and had even offered the premiership to a member of the party by unseating then prime minister Ranil Wickremesinghe.

"That was done purposely to engineer a defection of UNP members. If someone else from the party was picked as the prime minister, it would have led to a split in the party. But, we defeated this attempt at that point. Mr. Sirisena was getting on well with us during the initial few years but started backstabbing us after he realised we were not going to nominate him as our presidential candidate for the second time," Mr. Karunanayake said.

He said Mr. Sirisena, as a candidate of the Sri Lanka Podujana Peramuna (SLPP), was keeping contact with the Samagi Jana Balawegaya (SJB) and giving it hopes that a government could be formed with his backing.