---
My dearest Daddy, I remember you once asked my daughter, whether you could manage four more years and live up to be 100 years old? November 20, 2017 is the day you dreamt of. But sadly, you could not make it.
You smiled with each word you said just to hide the physical pain because you cared not to leave worries on others' shoulders, what a brave gentleman you were. In the last few years of your life, you reminisced how you had come that far.
Though your absence is greatly felt, you left millions of memories and live perfectly within our hearts forever. I spent one evening with my daughters to reel backward and pick a few memories from far to near and it only made us miss you dearly again. You maintained an open-mind and accepted all the good from Eastern and Western cultures that assisted your way of life.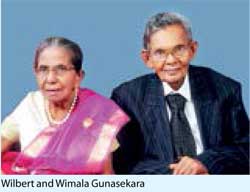 The most important thing you had done was giving the chance for me and my brothers to see this world and share a life with you. I feel like people do not appreciate enough the love and care they get from a person before it's too late. Is it a normal human nature that people are too busy to know what are the important things that should be cared for foremost? However, I find peace knowing I cared for you as much as I could specially in your elderly days. Please forgive me if I didn't do enough.
When I was a little girl, you treated me like a princess for being the only daughter and the eldest child. Once you bought me a dress (the best of all) for a party, I still have a picture of it in my mind even at the age of 72 years!
Life is never easy for anyone and the family life is even harder; yet Daddy, you managed it incredibly well spending a good long wedded life of nearly 70 years with Mum. You and Mum were both blessed to live together that far in time even through the ups-and-downs that a marriage could easily bring. You loved your wife, Wimala and your six children very much. As you always appreciated, Mummy came the foremost running your family but you were the rock behind her guiding all of us. I admired your quality being a brilliant human being.
Daddy, you really planned to celebrate your 70th wedding anniversary in June 2014. You needed the world to know a marriage can last long if the two people in it could work together. I was so glad to capture the moment of 69 years of your marriage in a picture. I also liked the photo we took on the same day to celebrate the 4 generations of women together: Mummy, myself, Chuty and daughter Natasha.
After your death and the subsequent alms giving, everyone returned to their homes leaving behind the silence, loneliness and sadness that filled in our hearts. There was one note hugely thanking a doctor who saved you from pain/danger by performing a critical surgery and letting you live some more years. That was just an example of how you showed your gratitude to people.
You always talked about your happy younger days at Ovakanda, Rathgama, being the eldest son of Liyanora Abeysekara and Oranelis Mendis Gunasekara and about your three younger brothers. You lived in different cities in Sri Lanka due to your duty constraints. My brothers and I really enjoyed travelling with you for the holidays to Anuradhapura. Memories of you will only bring me smiles and tears of joy. The genes you gave us and the lessons you taught will keep me stronger everyday.
Daddy, I have now lost my dearest Mum last year, as her mental status became poorer towards the end. She had little understanding of where you were gone, so she kept asking me where you were. When I couldn't tell her, she sobbed helplessly. Also, to our greatest shock, my dearest brother Upali passed away on June 18, 2017. He lost his battle with cancer for 4 years at the age of 63. Upali's loss has greatly affected us all. He was such a brave man just like you and even to his last moment, he was conscious and held his spirit high.
I still cannot believe the three of you were gone for good. But, I find peace again knowing how the three of you had great faith in Buddha, Dhamma, Sangha and Karma until your last moments. I hope you, Mum and Upali would meet each other again somewhere. Finally, I hope we all meet again some day when we reach the ultimate Nirvana as one big family. May the Gauthama Buddha's mercy reach upon us all.
Your legacy of knowledge, humour, honesty and courage will live to the future through the generations of your children. I believe you enjoyed a life far more than ninety-six years. Daddy, I wish you a very happy 100th birthday! and will always love you!
People and memories
Tears and smiles
Days and years
Always gone by
You make your destination
Your own unique way
Conquer any hardship
To find your rewards.
Be a winner in life!
Just like my Daddy was

Ivy Manel Gunasekara [Daughter Sudu]