---
My beloved sister Daphne Kulasekere was called to eternal rest on the 22nd of January 2017, a year ago, leaving a permanent void for all her loved ones.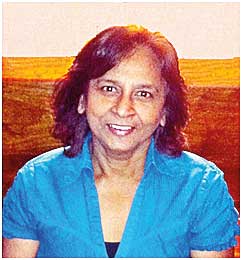 Born on the 18th of January 1953, Daphne had her education at Princess of Wales College, Moratuwa. She followed a career in Music (Pianoforte) and obtained professional qualifications from Trinity and Royal College of Music, London.

She started teaching music at the very young age of 19 years for around 15 students. She was actively involved in church work and was the organist of the Methodist Church Suduwella, Moratuwa and a dedicated Sunday School teacher.

She migrated to Canada in 1977 and lived a peaceful life with her family. She was married to Felix (Rohantha) and was blessed with two sons, Travis and Troy.

She was a very famous and much loved music teacher in Calgary and had the privilege of teaching many for more than three decades. She was attached to the Alberta School of Ballet and an appreciation for her dedicated services, the School held its annual concert- 2017 in memory of her.
She was also the organist at the St. Augustine's Anglican Church and the United Church in Calgary. The Funeral service was held at Christ Church Elbow Park, Calgary.

I wish to share some of the vivid, wonderful and nostalgic memories of her. We were very close to each other in a wonderful family atmosphere and lived happily under the guidance of caring parents and God almighty. When she started earning, she never failed to give me pocket money. It was she who dropped me off to the University hostel in 1975 with words of encouragement to study hard. She taught me how to ride a bicycle and to drive a car. My memory recalls, the fun we had during Christmas time singing Christmas Carols with family and friends, with my sister on the piano.

My sister never lost the common touch and was devoted to her family members, especially to the relations and friends in need. She was constantly in touch with her family and visited us regularly. The annual Christmas card from her was much awaited by all relations. Throughout her life she epitomized kindness, love and compassion for the needy. I am told by my sons who visited her in Calgary recently, how excited she was to have them at her home. She would look after them as her own and would stay up impatiently until they returned from their evening visits with the cousins.

In 2015, she spent Christmas with my family in Sri Lanka along with Travis her eldest son, and had a wonderful holiday. We had a family and friends get-together and as usual she was on the piano entertaining us all with Christmas hymns, songs and oldies that brings us fond memories.

Further, I was really moved by her very friendly approach towards my little granddaughters who still talk high of Daphne Achcha. In spite of her own declining health condition, she had played the piano, one last time, at the cancer hospital during the Christmas of 2016, entertaining the patients and its staff. Though we were apart, we never felt it, as we were constantly in touch with each other. My several visits to her home in Calgary too brought us much closer. Her love, affection and dedication to the family is admirable and exceptional. A thanksgiving service in her memory was held on the 1st April 2017 at the Suduwella Methodist church with a large gathering and an inspirational message was delivered by our cousin Ivor Poobalan. I take this opportunity to thank all those who attended the service. She was a loving daughter to our parents late Justin and Charlotte, a caring sister both to me and my brother Bernel (deceased) and a very loving and affectionate mother to her sons Travis & Troy - she truly was an "inspiration".

We all miss her so very much! I thank God for her life and it is my belief that we will meet each other again on that "beautiful shore".
DENVER BRIAN COOREY