---
Despite harassment, torture and threat by Mahiyangana Police, Magistrate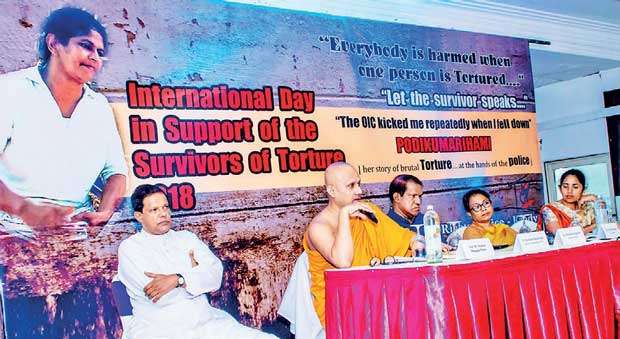 International Day in Support of Victims of Torture; observations held in Kandy

It all started with a two-acre land near the Mahaweli River in Mahiyangana. The land is ideal for those engaged in illicit sand mining.

One day a police constable attached to the Mahiyangana Police station approached the 50-year-old Podi Kumarihami living on the land and wanted the property sold to him.

Podi Kumarihami had no other place to go as she loved that plot of land. She was selling bêtel and coconut at Poojanagara in the Mahiyangana town. From the time she refused to sell the land, Podi Kumarihami alleged that she had undergone constant harassment by the Police and the Officer-in-Charge of the Mahiyagana Police. She spelled this story out before a panel of jurists on the International Day in Support of Victims of Torture observations in Kandy.

The Panel comprised of Ven. Dr. Atipola Mangala, Senior Attorney Tissa Manatunge,Commissioner of Human Rights Commission Dr. (Ms.) Deepika Udugama, Regional Human Rights Commissioner Kumudini Vithane and school Principal Kamalika Dissanayake. The compere was Rt. Rev. Nandana Manatunge - the Director of Human Rights Commission in Kandy.

Podi Kumarihami said that she was a mother of five children between the ages of 19 years and 13. She said that she was a street vendor who sold local produce at Mahiyangana. According to her, since 2006 she had been facing serious threats and harassment due to her refusal to sell the only land that was in her possession to the Police in Mahiyangana.

She alleged that her 17-year-old son was arrested several times. On November 5, 2017, she alleged that her son Sumesh was arrested by Mahiyangana Police and tortured following which he was hospitalized to treat his injuries.

She alleged that though the local Magistrate was informed of this repeated torture, she did not take notice of the complaint but said that she had to honour the Police. She had also said that the Magistrate was married to a Police Officer. Podikumari Hamini was later arrested for not wearing a white saree when she appeared in the Court and remanded for 14 days. The criminal case continues against her and she had been warned by the Magistrate not to retain a lawyer from Mahiyanga in order to defend herself.

On August 15, 2017, she was arrested again. She charged that no female Police officer was present during the time of her interrogation. She recounted that police officers beat her and tried to force her into the Police vehicle. She said her son-in-law Asanka Dilshan who rushed to her help was also beaten. The Police officers were alleged to have stated that they would find drugs in her house, before the day ends.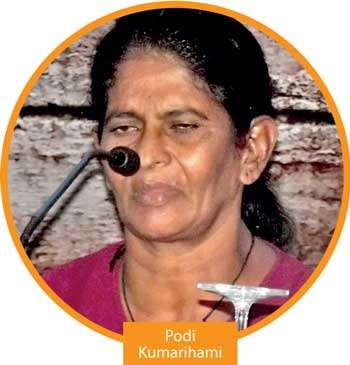 On the August 17, in a harrowing tale, Podi Kumarihami said that Police officers planted drugs at her house and that her son-in-law was arrested despite his defiance. She said she was allowed on Police bail and her son-in-law was remanded for 14 days.

On the same day, policemen from Mahiyangana Police arrived at her house and attempted to arrest her daughter Chamila Malkanthi, but when she objected to the arrest, she was physically harassed by the Mahiyangana Police OIC and two other constables named Senadheera and Wimalsena. They caught her by her hair and dashed her head against the wall. When she knelt and pleaded, she was kicked by the OIC with his boots. They warned if she had complained, she would be shot. By August 20, 2017, Podi Kumarihami was summoned to the Police Station and was warned not to pursue any complaint against the Police and if she did so, she would have to face dire consequences.

It is at this time that Podi Kumarihami complained to the Human Rights Commission. Her case No: HRC/BD/147/17 was scheduled for hearing on November 27. Podikumai Hami and Dilshan alleged that their arrest by the Mahiyagana Police was an act of reprisal.
She said her son-in-law Asanka Dilshan who rushed to her help was also beaten. The Police officers were alleged to have stated that they would find drugs in her house, before the day ends

She stated that she had written to the Police Commission, the Attorney General, the Human Rights Commission of Sri Lanka and the DIG Badulla range and Special Investigations Unit had already commenced investigations. However, Podi Kumarihami alleged the investigations have been completed.

She said that her safety, her dignity, her son's education and her ability to engage in her livelihood is at stake.

The Civil Society who were present passed an eight-point resolution calling upon the State to ensure effective protection and redress for Podi Kumarihami. They also called on the Judicial Service Commission to conduct an inquiry into the Mahiyangana Magistrate pertaining to these incidents and urged the National Police Commission to inquire into the alleged conduct of the Mahiyangana Police officers as well.