---
It is with a sense of sorrow and joy in Christ, The National Christian Council of Sri Lanka (NCCSL) receives the news of the 'Calling to Glory' of Rev. Fr. Ernest Poruthota.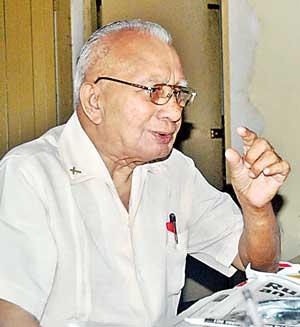 Rev. Fr. Raymond Ernest Alexandra Poruthota, as a magnanimous disciple of Christ engaged in spreading the love of God in an encouraging and guiding spirit leading all those he acquainted with towards greater achievements in the mission of the God.

As an affable and inspiring servant of Christ, Fr. Poruthota was one who made immense contributions displaying divine gifts bestowed upon him in the field of communication and cinema.

The 'calling to rest' of Fr. Poruthota is a great loss to the Church, and it is our hope that his inspired leadership, guiding principles and vision will continue to prevail and hold firm in the Church and the Country as a whole.
May he rest in peace and rise in glory. Signed by: Rev. Heshan De Silva – Chairperson National Christian Council of Sri Lanka and President Sri Lanka Baptist Sangamaya, Rt. Rev. D.R. Canagasabey – Metropolitan's Commissary and Vicar General, Church of Ceylon - Diocese of Colombo, Rt. Rev. Keerthisiri Fernando – Bishop of Kurunegala – Church of Ceylon, Diocese of Kurunegala , Rt. Rev. Dr. Daniel S. Thiagarajah - Bishop of Jaffna Diocese, Church of South India, Rev. Asiri P. Perera – President/Bishop, The Methodist Church, Sri Lanka , Rev. Saman Perera - President, Presbytery of Lanka, Rev. Shirley Faber- President Christian Reformed Church, Lt. Colonel Suresh Pawar -Territorial Commander, The Salvation Army , Mr. Nirmal de Fonseka - National President Young Men's Christian Association (YMCA), Mrs. Micheala Wickramasinghe - National President Young Women's Christian Association (YWCA), Ven. Samuel J. Ponniah – Chairperson Student Christian Movement (SCM), Rev. Priyantha Wijegoonewardena – General Secretary - The Ceylon Bible Society, Mr. Gamini Hettithanthri – President Christian Literature Society, Rev. N. Arulnathan – Principal, Theological College of Lanka, Dr. Mayukha Perera – Managing Director, Back to the Bible Broadcast, Rev Maxwell Doss – General Secretary, The National Christian Council of Sri Lanka. Associate Churches and Ecumenical Organisations: Rev. Michael Dissanayake - Church of the Assemblies of God, Rev. Dr. Leslie Keegal – The Church of the four Square Gospels, Rev. G. Nadarajah –President, Ceylon Evangelical Lutheran Church, Rev. Thevanesan – the Church of the American Ceylon Mission, Dr. Ivor Poobalan – Principal, Colombo Theological Seminary, Mr. Leonard Fernando, National Director, Youth for Christ.