---
On January 25, 2016 when the Good Lord above decided that Dilip's stint on earth must come to an end, it was a very sad and rude shock to all of us as he was such a vibrant and healthy person that none of us saw this coming.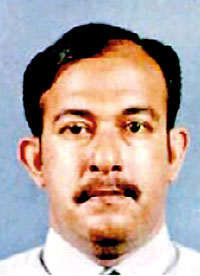 I had a very close relationship with Dilip from my early days in school as we were not only in the same class but also we resided not more than 200 metres apart with the Peterson Playground, Wellawatte separating our homes.

Dilip set up a lending library at his home and I availed myself of his library to borrow and return all the favourite books at that time, like Hardy Boys, Fredrick Forsyth, Tintin and Agatha Christie to name a few.

This made me frequently visit his home and this led to a very close relationship ever since.
In addition, this library service that Dilip graciously provided to us at a very early age played a very significant part in inculcating the reading habit in me which contributed significantly to my success in the later years of life especially in my tertiary studies. Likewise, our other classmates and numerous other friends too benefited similarly from this library.

This sense of community service was demonstrated throughout his entire life by being a member of the Rotary Club for several years where he was involved in several service projects, being on the committees of professional organisations like the IAA and most personally and significantly by his immense contribution to our class of 75, also known as Archibald Group for over 30 years.

He played a big part with a few others in organising the 50th anniversary reunion which was a resounding and memorable success and brought us together from all corners of the globe as one big family with our immediate families together with the camaraderie and fellowship that ensued.
As for his traits and qualities, throughout the entire period I knew Dilip very closely, I never knew him to get angry and irritable even once.

He was quiet and never imposed his will. He was a great team player and always went out of his way to oblige anyone who wanted any assistance without expecting anything in return and this will be attested to by the many, who benefited by this wonderful trait that Dilip, dmonstrated. throughout his life.

Dilip went into the accounting profession and I went into the banking sphere after leaving school.
On a very personal note the most significant impact that Dilip had on my life was when he persuaded me to join him in his accounting studies of the UK accounting body- CIMA, promising that he would guide and mentor me. Singlehandedly, without my having to attend a single lecture or seek guidance from anyone else, he ensured that I successfully completed the tough examinations to gain professional membership to the UK body and the huge impact that these studies had on my later life professionally, would always be attributed and dedicated to him.

Dilip's yeoman service to the Community, his friends, classmates and all others around him would not have been possible if not for the support from his wife Niranjali and a big 'Thank you' is owed to her in these difficult times as she copes with his sudden loss from her midst. May God give her the strength and courage to cope with Dilip's demise.

People come and go in our lives but memories don't and I am sure pleasant and fond memories of Dilip will be embedded in us for the rest of our lives.
-Warren Loos