---

he much-awaited annual Ladies' College-Musaeus College regatta takes place on Saturday, October 6 at the Colombo Rowing Club.
This beautiful setting with open grounds and calm waters of the Beira Lake comes alive with the sensation of excitement and much hope on this important day on the calendars of both schools.
This event has continued to foster a special bond of comradeship between them in the spirit of healthy competition and a shared passion for the sport.
Rowing is a competitive sport involving much skill, teamwork, strength and endurance. This is clearly seen in the dedication and determination of both crews, who have been training with added commitment and fervour in the weeks leading up to the encounter.
The crews have been trained under the able guidance of coach Sharen Kannangara and Assistant Coach Saliya Gunasekara for Ladies' College and coach Anuradha Nadaraja for Musaeus College.
This year, Ladies' is captained by Sanjula Boteju and Ashvini Subasinghe, with Kavisha Dassanayake as Vice-Captain. Musaeus is captained by Mayanthi Weerakoon and her vice-captain is Binali de Alwis.

Musaeus College Rowing Crew - Seated – (left to right): Mayanthi Weerakoon (Captain), Mrs Mangaladevi, Mrs Kalpana Senarath, Miss. Vidumini Munasinghe ( Teachers in Charge), Mrs. S. Jayaratne (Prefect of Games), Mrs. C. Jayathilake (Deputy Principal), Mrs. N. Senadira(Principal), Mrs. R. Gunaratne (Deputy Principal), Mrs. V. Attanayake (Physical Education Teacher), Mr. Mark Maurice (Advisor), Mr. Anuradha Nadaraja (Coach), Binali De Alwis (Vice Captain).
Standing- 1st Row (left to right): Nethra Jayasekara, DinaraFernando, Hashini Hettigoda, Lishadie Mayadunna, MaedhiniDe Alwis, Senuri De Silva, Thanushi Perera (Secretary), BinuriGunawardena, Thamadansi Hewage, Nethmini Sirimanne, SineliDe Silva.
Standing- 2nd Row (left to right): Binadi Gamage, Dimanya De Silva, Thiyanie Illeperuma, Imasha Fernando, AmaveeAbeysirigunawardena, Yenushka Premaratne, ArchanaJayawardena and Diyana Fernando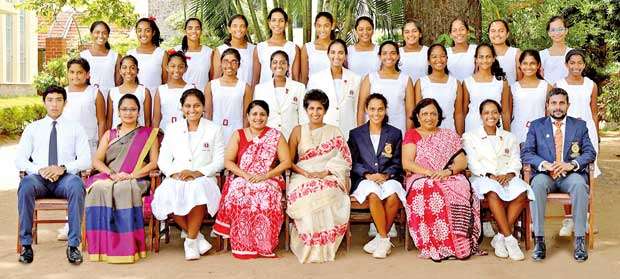 Ladies College Rowing Crew- Seated (L to R): Saliya Gunasekara (Assistant Coach), Ms Manarangi Navaratne(Teacher-in-charge), Sanjula Boteju (Co-Captain), Ms Deepika Dassanaike (Vice Principal), Ms EeshaSpelderwinde (Principal), Ashvini Subasinghe (Co-Captain), Ms Lilamani de Sayrah (Teacher-in-charge), Kavisha Dassanayake (Vice Captain), Sharen Kannangara(Coach).
Standing 1st Row (L to R): Haaya Hassen, Chalya Rodrigo, Jaana Rodrigo, Chiara Wijetilleke, Anelika Karunaratne, Ayani Perera, Gabrielle Senanayake, Sayaka Gunasekara, Keshya Varia, Janindri Fernando, Taalya Tranchelle.
Standing 2nd Row (L to R): Thimaya Dassanayake, Nadia Jasinghe, Aanya Devapura, Kiara Kumaranayagam, Anithra Fernando, Niharra Chandrasena, Tanita Goonetilleke, Arshia Silva, Avani Amarasinghe and Devishta Dharmadasa.