---

Toyota Lanka (Pvt.) Ltd, the National Distributor for Toyota and Hino vehicles in Sri Lanka, recently held the second consecutive Hino National Skills Contest to enhance and uplift the skills of Hino Service Technicians within the company's ranks.

Under the wings of Toyota Lanka (Pvt.) Ltd, the Hino Sales, Service and Spare Parts (3S) team last year inaugurated the Skills Contest focusing towards the development of skilled commercial vehicle technicians and sharpening their inner skills. With the continuous strength and support of the technical and management representatives at Hino Motors Ltd, the skill contest was a one-of-a-kind event, while further enhancing skills and boundless competencies in lining with the total support philosophies of Hino Motor Corporation.

The winner of the competition was Amila Nuwan Karunanayaka whom will be contesting at the Global level skill contest, whereas Sanjeewa De Almeida was awarded the first runner up. The winners also received certification and the champion award by Hino Motors, whereas the cash rewards and the trophies were awarded by Toyota Lanka (Pvt.) Ltd Managing Director Shungo Yoshioka.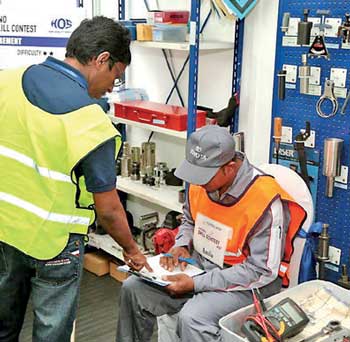 Chief Operating Officer Manohara Atukorala commenting on this year's contest said: "With the rapid developments in the Sri Lankan truck market, the demand in remote locations shows an improvement along with the sales of over 800 trucks. Therefore we see an increase in the need for after sales service by skilled technicians. This contest allows not just our staff to grow their potential but to also be competitive in the wider world."
Meanwhile Hino also inaugurated the 'Hino Defensive Driver Technical Seminar 2017' to build the awareness between their key valued clients recently. The event took place recently at OZO Colombo 04 which saw the participation of Hino Manager and senior business partners to spread the idea of handling the technical difficulties at any phase. In order to further improve the scheduled programme, an outsourced veteran lecturer for defensive driver training Weerasinghe was also invited.

The programme content was delivered very broadly where the key components discussed included the safety and economical driving, preventive maintenance, new truck features and technologies while educating through total support services. Also there was an interactive presentation regarding the periodic maintenance schedule.

Hino is a brand that is growing in Sri Lanka, with a line of new models and expansions in the near future.