---
Speed Motors (Pvt) Ltd., a leading motor vehicle importer in Sri Lanka, entered into the partnership agreement with 'Be Forward' based in Japan recently.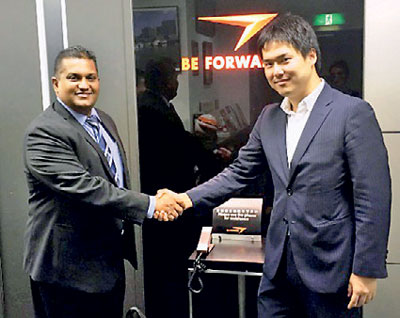 In terms of this tie-up, 'Be Forward' will represent Speed Motors (Pvt) Ltd.. in sourcing quality vehicles from the Japanese domestic market as well as motor auctions, while Speed Motors will, in turn, represent 'Be Forward' in providing after-sales and after-care services in Sri Lanka and Bangladesh.
Under this mutually rewarding partnership, Speed Motors will be able to procure top quality vehicles through the intervention of its counterpart in Japan, and will also work closely with reputed automobile inspection companies in importing vehicles to Sri Lanka.
Speed Motors (Pvt) Ltd., with the assistance of Speed Auto Care (Pvt) Ltd., in Sri Lanka, will provide after-care services, including a three-year comprehensive warranty and free car-care services to the end customer.
"This mutual understanding will translate into Sri Lanka being able to import quality vehicles at "very competitive prices", and the end customer will benefit immensely through the comprehensive after-sales service that will be offered, which we believe is a critically important segment in Sri Lanka's motor industry", said Nishantha Delgoda, Managing Director, Speed Motors (Pvt) Limited.
Speed Motors markets a range of motor vehicles, including world famous brands such as Toyota, Nissan and Mitsubishi directly imported from Japan.
Speed Motors is a member of the Speed Group of Companies. Speed Water Systems (Pvt) Ltd, Sritrims (Pvt) Ltd., Speed Auto Care (Pvt) Ltd., Speed Lands (Pvt) Ltd., Speed Leisure (Pvt) Ltd., are the other subsidiary companies under the wing of the Speed Group.