---
By Chandeepa Wettasinghe
Local rubber prices remain significantly higher than the steadily decreasing global prices, due to recent adverse weather and healthy local demand.
According to Bloomberg, global prices have dropped to the lowest ever since 2009 due to oversupply from Thailand and Malaysia; the two largest suppliers, while a significant drop of consumption in China has also contributed to the predicament.
Forbes & Walker Commodity Brokers (Pvt) Ltd. Director Damitha Perera said that future rubber prices, both locally
and globally are hard to determine.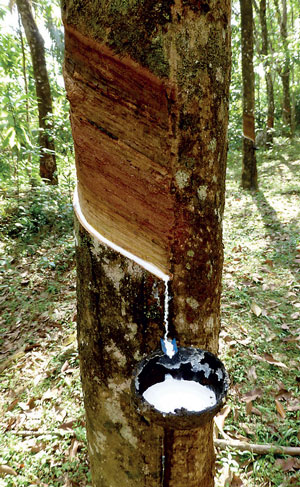 "It's difficult to predict since the weather plays a serious role. The global prices will be determined by the weather in Thailand and Malaysia for the next two months," he said.
The Thai government imposed a hold on trading its rubber stockpiles, and the Indonesian government also asked discouraged its farmers to sell rubber, while the ASEAN countries consider taking collective action in banning rubber exports. Perera expressed that such stockpiles would have to be released eventually and would not make much difference in the flooded market.
Rubber in the Singapore Exchange had been trading at around US $ 1,500 (Rs. 198,000) a tonne while in the Tokyo Commodity Exchange, rubber futures fetched $1604 (Rs. 211,728) a tonne last week.
However, local prices for Ribbed Smoked Sheets 1 (RSS 1) at today's auction at the Ceylon Chamber of Commerce averaged at Rs. 295,000 a tonne, up from Rs. 270,000 a tonne from end of September; RSS 2 up to Rs. 275,000 from Rs. 264,000, while the premier Latex Crepe 1x fell marginally from Rs. 300,000 to Rs. 295,000.
"The prices are being held up artificially, but it won't go down, due to the recent weather," Colombo Rubber Traders Association Chairman M. S. Rahim told Mirror Business.
He said that domestic consumption has been constant, and the lack of rubber production due to the recent wet weather has created
a scarcity.
"There has been almost no rubber production this week, and none today. I've even had small players coming to be asking whether I've got rubber," Rahim claimed.
He said that international companies which had been operating in Sri Lanka for decades to benefit from cheap labour and rubber will, in the not too distant future, leave for the much more desirable Bangladesh and Vietnam.
He also stated that some companies have been importing rubber from Vietnam for cheaper prices due to no supply, but said rubber producers shouldn't worry, due to huge delays in importing and non-existence of lines of credit.
Industry sources confirmed that rubber stocks were imported to the country at an average price of Rs. 220,000 a tonne.
The government meanwhile, plans to expand the local industry by 200 per cent in the next 10 years to US$ 3 billion, however, Rahim said that the government has completely ignored it.
"Officials talk of planting Papayas and Mangoes for exports in coconut lands without researching soil feasibility, but rubber exports have a Rs.15 cess for a kilogram which hasn't been used at all. The rubber industry, like the tea industry hasn't asked anything from the government for the past 90 years. They've ignored us," he said.
In 2013, Sri Lanka exported US$ 72 million of natural rubber and another $887 million of rubber finished products for a total of $ 960 million, which was a 100 per cent increase compared to 2009, but growth seems negligible given today's predicament.