---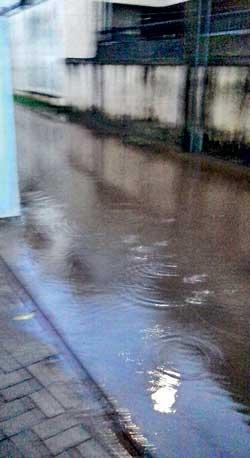 A lane running off Green Path, Kohuwela is submerged in rain water constantly throughout the day over the past few weeks while there is a strict warning given by the health authorities that Dehiwala is one of the worst affected areas for Dengue.

The reason for the stagnant water is a construction across the road at the dead end which has the approval from the Dehiwala Municipal Council. As a result of this the residents of this road who do not have vehicles are facing enormous hardships and financial burden to attend to their day to day activities. School children are compelled to hire three wheelers to get to school and attend classes which is an additional financial burden for their parents, as walking through the stagnant water represents a health hazard.

Residents of the area have reported this problem to the DMMC on several occasions in writing and also by visiting the public day of the DMMC; but no action has been implemented by them. Hence they are now seeking the inference of the President to expedite the authorities to take early action in order to protect the residents of this area from Dengue fever as quickly as possible.

A concerned citizen