---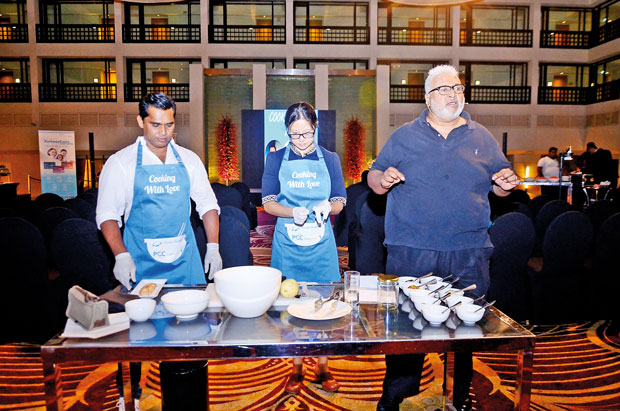 Living a healthy life is a challenge that many people take up. In a landscape where fast food chains, attractive beverages and easy lifestyles are being promoted, one finds that leading a healthy life stands well away from reality. Adding to this are the daily stressors of life such as going to work, keeping up with deadlines etc. As much as we think that a healthy life is about not getting sick, it has to do a lot with the proper calorie intake and also maintaining a good overall well-being.

In order to shed light on living a healthy life, Mount Elizabeth Hospitals together with Parkway Cancer Centre and CanHope Colombo conducted a programme with two experienced medical personnel. Enlightening the audience on the proper way to a healthy life, Dr. See Hui Ti and Dr. Chuan Hsuan-Hung from Mount Elizabeth Orchard shared their experiences and a few tips;

Control the intake of sugar in your lives : Dr. See Hui Ti
Speaking on the topic 'Prevent and Fight Cancer', Dr. See Hui Ti, Senior Medical Oncologist at the Mount Elizabeth Orchard said that tobacco is one of the main causes of cancer. "We all do things that keep us alive and it's important to be happy. I love food and I grew up loving food. One thing is that we love to smell food and we love to taste things. Smell is more important than taste. With regard to cancer patients the first thing that they lose is their sense of smell. Food can taste really good, but it may not be good food whereas some food can taste really bad, but it may be good for us. So when we focus on nutrition we don't have to worry about eating too much or too little. If you are having enough nutrition you wouldn't be hungry. Studies have shown that up to 40% - 50% of the cancer risk comes from our lifestyle; be it smoking, be it lifestyle. We see smoking, diet and activity pattern topping the list. This is followed by alcohol and microbial agents. We know that smoking causes lung cancer. More often than not we meet patients who don't smoke or drink and still develop cancer. Therefore it's important to know that the food that we think is good could actually cause a lot of difficulties in future."said Dr. Ti.

Elaborating more on cancer Dr. Ti said that carcinogenesis takes place when DNA is damaged and it is therefore irreparable. "This could happen in events such as excessive sunlight, smoking, infections and even inflammation which results from over eating and obesity. It takes between five days to 20 years to build on carcinogenesis. Dietary and activity habits start young. If we don't teach our children how to eat and how to exercise, they will grow up having misconceptions and misunderstandings about how to eat. When we begin smoking at the age of 15 we find it very difficult to stop. When you reach 40-45 you realize that your aches and pains get in your way. This is when you should realize that what you eat needs to be controlled. We can get addicted to sugar and sweet-tasting food, but it is important to know what we are putting in to our mouths in the long run. Nasopharyngeal or nose cancer used to be the most common type of cancer especially in Singapore due to inaccessibility of good food. It takes years to build up carcinogenesis and it also takes years to reduce the risk of carcinogenesis. What's picking up is colorectal cancer – which we also call the 'Cancer of the Rich'. There are those among us who eat as much as they can and don't move about because there are maids in the house. They have chauffeurs to take them around. This gradually increases the inflammation in the colon leading to colon cancer. Breast cancer in women also develops as a result of easy access to good food and easy access to sweets. Cervical cancer seems to have declined due to regular screenings."he added.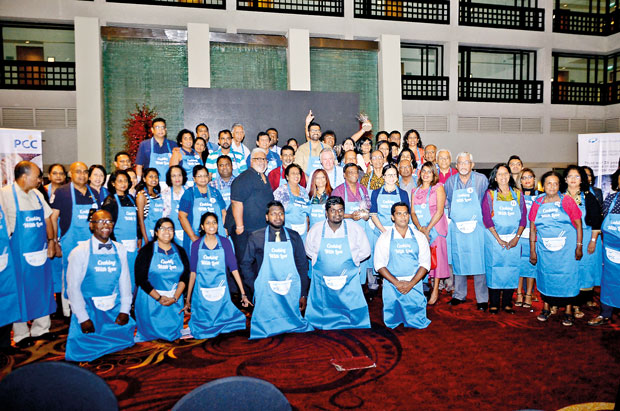 Speaking further she said that by deep frying potatoes and other vegetables we take away what is good in them. "In case if you eat fast food you need to balance it out with vegetables. There is also a clear distinction between fruits and vegetable juice. While fruit juice has a high content of sugar, vegetable juice is high in micronutrients. It's important to eat food while it's fresh. We like to keep food in the refrigerator and eat the following day. But this could cause molds and other bacterial developments which could infect you. It has also been found that fatty livers are the primary cause of liver cancers. This could be caused due to chronic diabetes and the consumption of high sugary food. You can eat chocolate and sugary foods as long as you can keep your weight down. The key here is the Body Mass Index. The Metabollic syndrome – a condition of diabetes, high blood pressure and central obesity is known to cause menopause or endometrial cancer or womb cancer etc. This is the same with men. So we need to control the intake of sugar in our lives," she said.


In her concluding remarks Dr. Ti said that exercise can reduce the chances of contracting diseases. "It can lower the levels of hormones such as insulin and oestrogen and certain growth factors that have been associated with the development of cancer. Reducing inflammation and improving the immune system are two other benefits. People who are most active can reduce the risk of developing 13 types of cancers. Even for people who have lower activity levels, if they at least engage themselves in two and a half hours of brisk walking it will lower their risk of developing cancer. So you can change your risk of developing cancer by changing your lifestyle," she said.

Health is not the absence of sickness : Dr. Chuan Hsuan-Hung
Dr. Chuan Hsuan-Hung, Senior Medical Cardiologist at the Mount Elizabeth Orchard, then spoke about having a healthy heart. He said that the current generation thinks about consuming as much food as possible without considering how it will be burnt. "Therefore we see people going to sleep just after having dinner and similar other behaviours. When we sleep we burn less calories and where will the remaining calories go? This is how fatty liver develops. One of my priorities is to correct the eating habits of my patients. Dinner time is where we socialize with the family and if you can add a bit of walking after dinner, it would help strengthen family ties even more. Intermittent fasting allows the body to reach a low sugar state. But practically speaking it's not something very sustainable. It's not advisable for heart patients to follow this rule,"said Dr. Chuan.

Speaking further Dr. Chuan said that non-communicable diseases are not an issue affecting only developed countries. "For the past many years we have seen the increasing number of cases with non-communicable diseases in developing countries as well. Many risk factors will affect you in various ways. Health is not only the absence of sickness, but it is also about having a healthy mind and the overall well-being. A list of behaviours including no smoking, eating a healthy diet, maintaining a healthy weight, exercising regularly, drinking alcohol in moderation and getting adequate sleep are known to contribute to your health. These work for different people in different ways. Reducing weight can bring about a huge difference in your life. If you can stop one snack or burn equal amount of calories you can achieve this goal," Dr. Chuan concluded.