---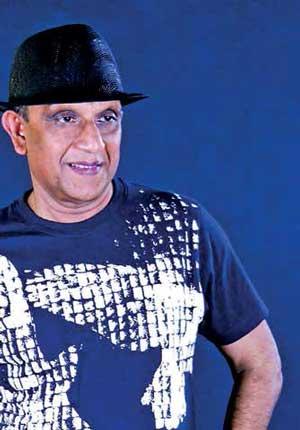 Well known showbiz personality Damayantha Kuruppu who presents the Milestone Moonstone show on July 28 said:

"Presenting the Memories of the Fabulous Moonstones, I find it interesting as this will focus on the musical journey of Clarence and Annesley from 1965 as Moonstones until it became Super Golden Chimes.

Also many attribute Clarence`s music with what he has produced with Super Golden Chimes and as a solo singer. But some of the best compositions were from the era of the Moonstones which was also the birth of Sinhala Pop. I personally feel, if not for Clarence and Moonstones Sri Lanka would not have had the opportunity to experience such beautiful songs and also emerging of so many great musicians. The concept itself is very informative as it revels many interesting events about the birth of a new chapter in Sri Lankan music.
In fact, my showbiz career revolves around Clarence. When we were schooling, Sanghabo Corea was our closest neighbour at Thimbirigasaya. We used to play cricket on the road. I then noticed some boys visiting Sanghabo Corea's home and practising music. I was just watching Clarence, Annesley and others practising. I was a schoolboy and was actually scared to talk to them. Even before doing my OL's, I thought to myself that I must form my band some day. That was my biggest inspiration.
"Damayantha is known for the successful shows he presented to mark the milestones of several popualr bands in Sri Lanka."

A band then wanted a guy to sing Englebert songs. I was schooling then. Later Ajith Dahanayake introduced me to Clarene whom I met for the first time. Ajith was studying the German language in Colombo. Clara was also keen. Then I and Clara joined German classes. I used to join Clara every morning and travel to the German cultural institute on the pillion of his scooter. I associated with him from 1973 to 1975 until I left the country for higher studies. I got this craze to do musical shows. Super Golden Chimes 'super concert' was very popular then. I told Clarence that I wanted to do a super concert show. He suggested that I do a super concert with Milton Mallawaarachchi who had a lot of hits by then. In 1975 May 9 I did my first show. That was Milton's first solo musical concert and it cost me Rs. 18,000 and the most expensive ticket was Rs 100. I returned and continued presenting so many milestone shows.
Damayantha is known for the successful shows he presented to mark the milestones of several popualr bands in Sri Lanka.
For tickets call: 0777-744950