---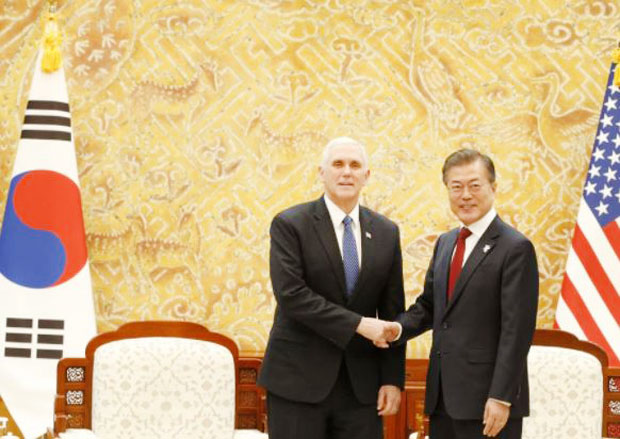 REUTERS, 09th FEBRUARY, 2018-North Korea's ceremonial leader and U.S. Vice President Mike Pence may have their first face-to-face encounter on Friday at the opening ceremony of the Pyeongchang Winter Olympics, as Washington prepares more sanctions against the North.

Any contact between the two will likely be tense after Pence said South Korean President Moon Jae-in gave his backing to additional measures the United States is planning to try to curb North Korea's missile and nuclear programs.

Pence said Moon acknowledged the effectiveness of sanctions in bringing North Korea to inter-Korean talks.

"President Moon reaffirmed to me his strong support of our extreme pressure campaign to continue to bring additional sanctions on North Korea," Pence told reporters.

He spoke after paying tribute at a memorial for 46 South Korean sailors killed in the sinking of a warship in 2010 that Seoul blamed on a North Korean torpedo attack.

Pence arrived in South Korea on Thursday and spoke with Moon, both reiterating their commitment and cooperation to defuse tensions as North Korea pushes ahead with its weapons programs in defiance of U.N. Security Council resolutions.

Kim Yong Nam, North Korea's nominal head of state, landed in South Korea on Friday along with leader Kim Jong Un's younger sister, Kim Yo Jong, aboard her brother's private jet.

The white aircraft had Democratic People's Republic of Korea, North Korea's official name, inscribed in black in Korean on its side, followed by the North Korean flag.