---
LONDON AFP March1, 2018- British Prime Minister Theresa May hosts EU President Donald Tusk for Brexit talks Thursday, on the eve of her keynote speech on future trade ties and amid a row over Northern Ireland.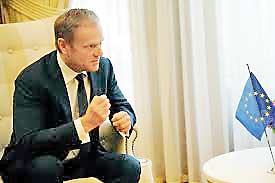 Their meeting at Downing Street comes as the European Union prepares its position on negotiations on the future relationship with Britain once it leaves the bloc. May is due to set out her plans in a long-awaited speech on Friday, but it has been overshadowed by a dispute with Brussels over the status of the Irish border after Brexit.

The EU this week published a draft law codifying the divorce terms struck with Britain in December, which includes plans to avoid any customs checks on the border between Northern Ireland and Ireland. May reacted angrily to the proposal that Northern Ireland --part of Britain-- stay in a customs union with the EU if there is no better solution.