---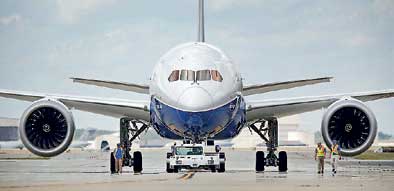 Boeing Co's newest and largest 'Dreamliner' model, the 787-10, successfully made its first flight on Friday, kicking off a test programme for the high-tech jet. The plane, which sells for $312.8 million at list price and rounds out a family of three carbon-fiber composite Dreamliners, flew well, the pilots said. The flight was one of three initial voyages on Friday, joining the Airbus A319neo jetliner and the Antonov An-132D, a light turboprop military transport developed with Saudi Arabia.

Boeing's 787-10 is being built at Boeing's factory in North Charleston, South Carolina, due to its large size.

The first 787-10 took off at 9:38 a.m. EDT (1338 GMT) and landed at 2:35 pm EDT. It is 18 feet (5.5 metres) longer than the 787-9 and seats 330 passengers, 40 more than the 787-9 and 88 more than the 787-8.