---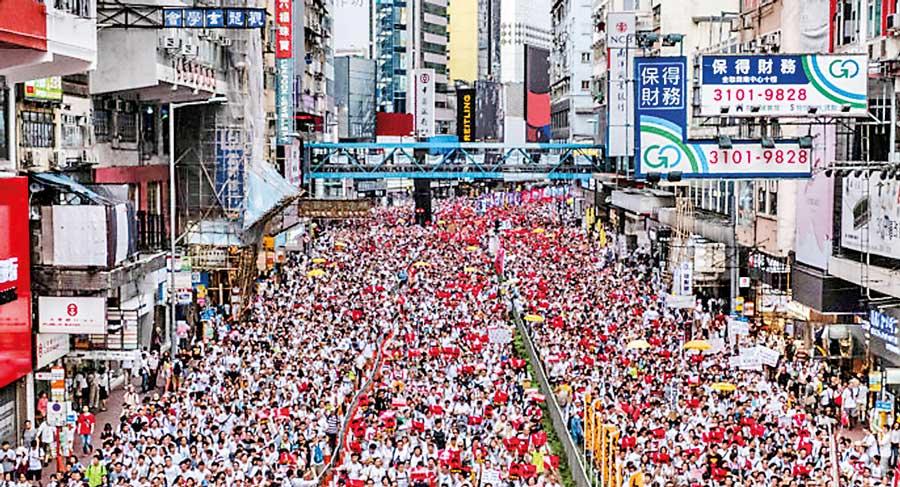 Organizers say 800,000 demonstrators filled the streets of Hong Kong Island Sunday for a Human Rights Day march, the first major anti-government protest to be sanctioned by police in months.

Black-clad demonstrators of all ages called attention to the unmet demands of the Hong Kong protests that have rocked the city for several months.

The march coincided with the six-month mark since over 1 million people first took to the streets against a now-defunct bill that would have allowed Hong Kong citizens to be extradited to mainland China.

It is the first major demonstration since the pro-democracy camp won a landslide victory in district council elections at the end of last month.

The march remained peaceful during the day, with riot police and water cannons on standby nearby.

As night fell, tensions rose in Causeway Bay, near where the march began, and near its end in Central, as front-line protesters in full gear strayed from the approved route to set up makeshift barricades on adjacent streets.

Police stated via Facebook that some "violent protesters" vandalised banks and shops in Causeway Bay and the nearby district Wan Chai.

A stand-off in Central between protesters and police dissipated after a representative of march organizers CHRF lambasted police for threatening to use force during a sanctioned march.
DPA, 08TH DECEMBER, 2019