---
SALA Enterprises, a leading, renowned company in Sri Lanka's information and communications sphere, has launched a new Mini PC to the market.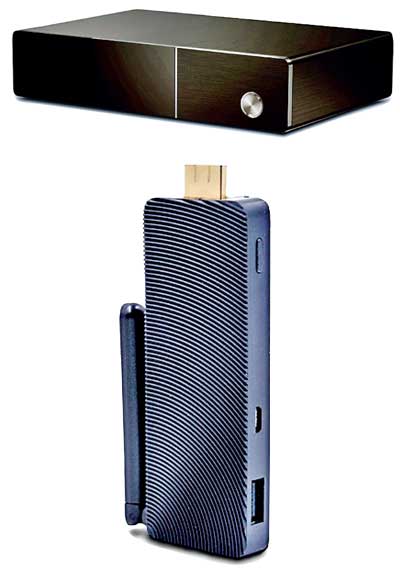 This modern Mini PC, which is slightly bigger than a USB Pen Drive in terms of size, is ideally suited for both office and home use. It can handle any task with ease and is as equally good as a Desktop when it comes to performance and stability.

The Mini PC can be connected to a monitor/TV (HDMI port or with the use of a converter), wireless/wired keyboard and a mouse and used as an ordinary computer. In terms of speed, it is much faster than a normal computer. Equipped with Bluetooth and Android technology, this innovative product can be purchased in different models to suit individual needs and requirements.

The operating system of the Mini PC is Windows 8.1. As a licensed version, it is upgradable to Windows 10. The Processor is Intel supporting 1.8 GHz quad core. It comes with a two GB RAM Memory and a Hard Disk of 32 GB eMMC. It can also support a two TB External Hard Drive. With its inherent applications and features, which support Microsoft Office and many other applications commonly used, the Mini PC can perform all the tasks of a personal computer equally well. An added benefit is that the Mini PC consumes minimum electricity and the workstation needs limited space.

With a one-year warranty coupled with a dependable after-sales service, the Mini PC can be purchased at a competitive price from SALA Enterprises.
SALA Enterprises was established in 1992 by its Managing Director Chinthaka Wijewickrama and has successfully completed 25 years in the Sri Lankan ICT market. As a top entrepreneur in the sphere, he serves as the incumbent President of the Federation of IT Industry Sri Lanka (FITIS).

SALA Enterprises is one of the pioneering companies that provide IT and communication product to the Sri Lanka market while holding reputed brand such as Prolink, Fujitsu, Delux, Huntkey, Emarc, Divoom, Edifier, Comet to name a few. Sala from its inception has been marketing state-of-the-art products to the consumer at an affordable price.