---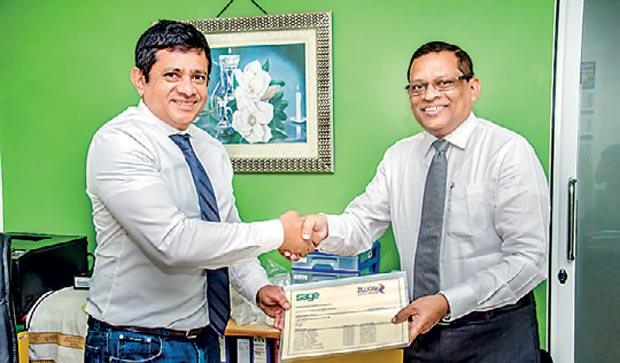 From left: M.U. Bopitiya, Chairman, Lanka Minerals and Chemicals (Pvt) Ltd. (RIGHT) – T. Suresh, Chairman, ZILLIONe Business Solutions (Pvt) Ltd
Technology-based enterprise ZILLIONe recently partnered with Lanka Minerals and Chemicals (Pvt) Ltd, to extend the benefits of its recently launched SAGE 300 ERP Software to the leading calcium carbonate processor in Sri Lanka.

SAGE 300 is an Enterprise Resource Planning (ERP) software that uncovers the latest ERP with heightened capabilities that boost productivity and profitability with refined workflow features and flexible personalization.

With this, Lanka Minerals would now be able to experience the brand-new web screens of the 2017 version, which enables users to work from any given place and time. This brings enormous flexibility over the existing multiple excel file sharing and accessing process through a centralized database.
Additionally, users are also empowered with the convenience of dashboard reports and real-time business analytics which bring more control over the dispersed operations with real-time mobile access and visibility across the entire company. "With the expansion of our company within Sri Lanka and in future, beyond the island, it is essential to have the latest information technology. We believe SAGE 300 is the right choice as the solution will not only help us deliver comprehensive operational management prospects but will also allow us to customise our data fields and business analytics, ease operations and place us on the fast-track to meeting our future goals", said M.U. Bopitiya, Chairman, Lanka Minerals and Chemicals (Pvt) Ltd.

The multi company feature within Sage 300 allows the two different legal entities of Lanka Minerals to work independently, whilst also providing a holistic view of the businesses using features such as customized reporting and improved business intelligence.

Moreover, the multi-currency feature of SAGE 300 enables Lanka Minerals to record transactions in their source currencies and convert them automatically to the reporting currency, ensuring complete management of foreign exchange gains/losses in financial operations.

"As the only registered gold partner of SAGE 300 in Sri Lanka, we at ZILLIONe are excited to be the valued business solutions partner of Lanka Minerals and Chemicals (Pvt) Ltd, who is a market leader in processing high quality calcium carbonate in Sri Lanka. We believe the solution we have proposed through Sage 300 will give clear visibility to their management and a bird's eye view of their whole manufacturing operation, dispersed around the Island. Lanka Minerals will benefit immensely through this automation and we are proud to join hands with them on this successful journey", said T. Suresh, Chairman,ZILLIONe Business Solutions (Pvt) Ltd further added.

SAGE has evolved from an accounting package to a fully-fledged ERP which can cater to different business domains. i.e. procurement, manufacturing, supply chain, HR and payroll, asset management, budgeting and forecasting asset management, CRM etc. This feature allows clients to integrate in to one ERP or integrate various business domains into the core business process, a cost effective and efficient solution.