---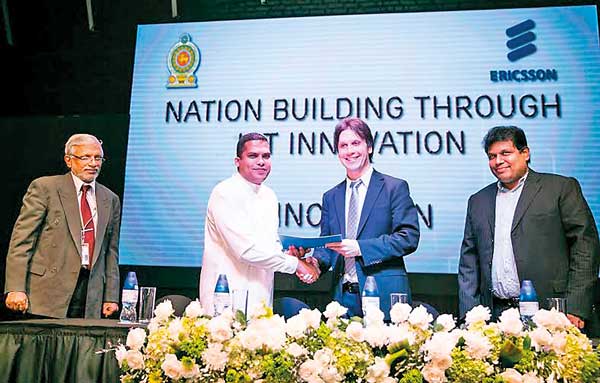 From left: Telecommunication and Digital Infrastructure Ministry Secretary Wasantha Deshapriya, Telecommunication and Digital Infrastructure Minister Harin Fernando, Ericsson Sri Lanka Head Denis Brunett and Information Communication & Technology Agency of Sri Lanka Chief Executive Officer Muhunthan Canagey
Ericsson, in collaboration with the Telecommunication and Digital Infrastructure Ministry, launched the 'Nation Building through ICT Innovation & Inclusion' initiative in Colombo recently coinciding with the inauguration of Ericsson's new state-of-the-art premises in the country.

The landmark event, attended by Telecommunication and Digital Infrastructure Minister Harin Fernando, included the signing of a Letter of Intent (LOI) between the ministry and Ericsson. The LOI aims to establish an inclusive and diverse information communication technology (ICT) innovation environment that stimulates a broad range of ICT ecosystem partnerships.

The LOI highlights the unique role ICT plays as the key enabler of the government's 'Digital Sri Lanka' vision. It includes a series of Ericsson initiatives such as the establishment of a 5G innovation centre, coupled with a gender and differently-abled diversity internship programme that encourages entrepreneurship and generates employment opportunities across a range of industries.

Ericsson Sri Lanka Head Denis Brunetti said, "In recognition of the enduring partnership Ericsson has shared with the people of Sri Lanka for over 20 years, it gives me great pride and pleasure to forge this Nation Building alliance with the government of Sri Lanka.

As demonstrated through Ericsson's Connect to Learn initiative in Sri Lanka, which utilizes mobility, broadband and cloud to bring ICT education to teenage girls from farming communities and empower their future, Ericsson is committed to harnessing the power of ICT to forge ecosystem partnerships that deliver benefits to the people of Sri Lanka.

Through this positive spirit of collaboration, we are investing further in our commitment to the people of Sri Lanka by launching the 'Nation Building through ICT Innovation & Inclusion' initiative, in partnership with the Telecommunication and Digital Infrastructure Ministry, which aims to ensure that a broader range of contributions to ICT development and innovation are embraced and favourably leveraged across the country. As well as fuelling the further expansion of our Connect to Learn service to Badulla and Jaffna in 2016, this strategic partnership will contribute a 5G innovation environment and an annual Ericsson ICT Internship programme involving female ICT students from Moratuwa University and differently-abled ICT students from across the Sri Lankan community."

Fernando said, "I commend the Ericsson team for taking the lead as a responsible corporate citizen and long-term Nation Building partner to the people of Sri Lanka. We are delighted to have joined hands with Ericsson in forging this historic 'Nation Building through ICT Innovation & Inclusion' strategic partnership, which ultimately aims to reduce the digital divide in the country.

Through this collaboration, we will engage in multiple Technology for Good initiatives that put technology into the hands of people at the grassroots, across all walks of life. We believe in the power of ICT and equal opportunity for all. By using ICT to empower a broader range of people across the country, we believe this long-term partnership with Ericsson will create new and exciting employment opportunities while instilling a strong sense of entrepreneurship throughout society.

The Telecommunication and Digital Infrastructure Ministry intends to join Ericsson management in Stockholm, Sweden later in 2016 to further advance the partnership through jointly orchestrated meetings with leading Swedish and Sri Lankan ICT companies. The ambition is to forge entrepreneurial ecosystem collaborations that combine the complementary skills and capabilities of a broader cross-section of ICT players for the benefit of all Sri Lankans."

Through its longstanding history in the Sri Lankan market, Ericsson and the people of Sri Lanka have successfully forged a relationship based on trust, innovation and performance. Ericsson remains diligently focused on serving shared interests and leveraging its ICT capabilities for the greater good of the nation.