---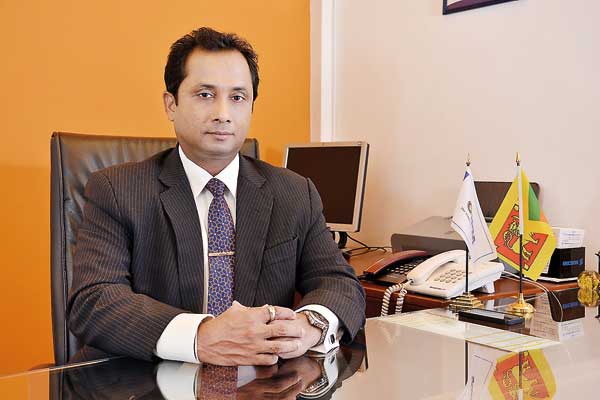 A country's human resources are a key factor which influences its growth and development.
Sri Lanka's premier professional body for human resources management, IPM Sri Lanka plays a significant role in order to steer the HR fraternity in the correct direction, thus enabling and empowering organizations to identify, develop and retain human capital.
One of the most active professional bodies in Sri Lanka, IPM organizes many events and activities to further its objectives in the human resources management sphere. One of IPM's flagship events is the National HR Conference. As the largest HR related event in South Asia, it is an event which is looked forward to by the HR fraternity.
The following is an interview with Rohitha Amarapala – President, IPM Sri Lanka on the significance of the National HR Conference 2015, held under the theme "HR for National Prosperity". The conference is to be held on June 16th and 17th, at the BMICH in Colombo.





Tell us about IPM, its scope and objectives?


IPM is the premier professional body for human resources management in Sri Lanka and is incorporated by an Act of Parliament. Our vision is to be the guiding force and the leader in developing best people management practices in the Asian Region.
IPM Sri Lanka has multiple objectives; some of them are to promote and develop the principles and practices of HRM, to ensure high level of professional standards, to promote the study of HRM, to influence national policy formulation, to facilitate networking and to maintain our status as leading HR authority in Sri Lanka.
IPM is also affiliated to the Asia Pacific Federation of Human Resources Management (APFHRM) and the World Federation of People Management Associations.
What are the objectives, theme and importance of the upcoming conference?
Our theme for the National HR Conference 2015 is "HR for National Prosperity" which is a very appropriate and opportune topic.
The nation is undergoing a significant transformation. Achieving national prosperity encompasses a wide spectrum of aspects. Prosperity can be quality of life, freedom of association, access to information, infrastructure development, having a shelter to live, health and well-being and many more. Achieving these requires a combined effort and the support of an array of stakeholders from public and private sectors to those who govern and administer.
At this conference, we intend highlighting the importance of achieving National Prosperity through best people management practices by attracting all stakeholders under this broad theme.





Who is the Chief Guest, Guest of Honour and Keynote speaker?


The Chief Guest at the conference is Md. Musharrof Hossain the incumbent President of the Asia Pacific Federation of Human Resources Management (APFHRM) and Chairman, Bangladesh Society for Human Resource Management (BSHRM).
Considering the importance of the theme of the conference, Hossain's vast experience as a HR practitioner in the multi ethnic and diverse Asia Pacific countries will no doubt add value to the conference and the participants.
The Guest of Honor at the conference is Alan Ovens – International Director, Chartered Institute of Personnel and Development-UK (CIPD) who will share a totally different perspective on HR from the West.
Also, having looked at regional and western participation, we also thought of inviting an entrepreneur, business leader and a rational thinker who has contributed to national prosperity as the Keynote Speaker to share his thoughts and insights as a Sri Lankan at the conference. He is the well-known entrepreneur and business leader, Dr. Lawrence Perera, Chairman/CEO of Micro Holdings Ltd. who has contributed to national prosperity by transforming Sri Lanka's automobile industry.
All of them I'm sure will bring a wealth of experience to the conference proceedings.





This Conference is being held since 1982. What is the uniqueness of this year's event?


Firstly, this is the largest HR conference in South Asia, and this year's theme "HR for National Prosperity" is indeed relevant to our national interests and goals.
Sri Lanka is in a transitional period where the need of the nation is to achieve prosperity. This requires both the private sector as well as the public sector to work in tandem for maximum effectiveness.
HR is an important common ground for both these sectors and IPM will be playing a catalyst's role in this journey. We have also added value to the conference with a lineup of excellent speakers and several well coordinated activities happening simultaneously such as the HR Service Providers' Exhibition, The Great HR Debate, National HR Excellence Awards and more to make this event exciting and meaningful.





Who are the participants at the Conference, and any foreign participants?


The National HR Conference has been a learning encounter and our key focus is to attract 'people managers' not necessarily HR Managers but managers of all other disciplines including policy makers, academics and statutory authorities who will all benefit from this Conference because we are going to deliberate upon many important aspects that are relevant to all.
We are also expecting delegations from India, Bangladesh and few participants from Singapore, Japan and England at this year's conference.





What is the contribution or value-addition you expect to gain from foreign resource persons?


The primary objective of inviting resource persons from overseas is to learn 'best practices' from them as all participants stand to gain valuable insights from them.
At this year's conference too we have invited three eminent resource persons from the SAARC region and one from Europe. We are confident that these experts will shed light on many interesting facets and will be able to share significant insights on HR that would help unleash the true potential of Sri Lanka's human capital.





Please explain the activities that have been planned?


In order to make the conference exciting and eventful, we have organized several activities which will form the crux of this year's conference.
These activities include, 'The IPM People Leader Awards that recognizes "people leaders" representing diverse disciplines; 'The National HR Excellence Awards' which is aimed at rewarding the best of the best in HR and the final round of the popular corporate debating competition, 'The Great HR Debate 2015' which is the only debating contest dedicated to the HR community. In addition, the ever-popular HR Service Providers Exhibition that showcases the greatest and latest HR solutions will also be held alongside the main Conference.
Apart from the above, the unique awards programme that was launched last year by IPM Sri Lanka - 'IPM Sri Lanka People Leaders' Awards' in collaboration with three professional bodies, namely, CA Sri Lanka, Chartered Institute of Marketing (CIM) and Institute of Supply & Material Management was further expanded this year by roping-in two more professional bodies, i.e. Institution of Engineers of Sri Lanka (IESL) and Computer Society of Sri Lanka (CSSL) thereby affording professionals from a wide spectrum of management disciplines to vie for this prestigious award.
As promoters of best people management practices, we trust this endeavour would create better 'people managers' amongst all disciplines and make the 'world of work' a better place for both the employers and employees.





How do you compare Sri Lanka's HR practices with those in the South Asian region such as India and Bangladesh?


Sri Lanka has established a positive and inclusive HR landscape and has adopted several HR best practices for safeguarding the interests of both employers and employees with a view to ensuring growth and sustainability of business organizations whilst ensuring employee well-being.
While there are many such comparable HR practices in India and Bangladesh, I believe Sri Lanka is at an advantage due to our relatively smaller population and size. This has helped us to maintain consistency across the country and job segments, whereas countries with large populations and a geographic spread such as India and Bangladesh are striving hard to achieve consistency in labor practices and employment categories due to these complexities.





Organizing South Asia's largest HR conference is indeed a daunting task. Who is supporting IPM Sri Lanka in this endeavour?


We are indeed privileged to receive active support from industry leaders such as Sri Lanka Telecom (Strategic Partner), MIMT Thulhiriya (Mas Institute of Management & Technology - Main Sponsor), hSenid Business Solutions (IT Partner), Mobitel (Official Mobile Partner), Sri Lanka Insurance (Insurance Partner), Certis Lanka (Logistics Partner), Durdans Healthcare (Healthcare Partner) and Wijeya Publications (Print Media Partner).
All these organizations are 'leaders' in their respective spheres. In addition there are a number of other organizations and individuals who have stepped forward to support IPM Sri Lanka in numerous capacities; as sponsors, volunteers, service providers etc to ensure the success of this important Conference.
This unwavering support is a clear testament of their trust and confidence on IPM Sri Lanka, which is striving to promote best practices and good governance among the Sri Lankan organsations. As the nation's leader in HRM we will do everything within our power to live up to the expectations of all our valued stakeholders and to make Sri Lanka a better place for every citizen.