---
Most employers say they cannot find school leavers to train for industry. This is a big issue for most industries, especially for tourism and construction, the supply side needs to be sorted out fast according to Dinesh Weerakkody Chairman National Human Resource Development Council Sri Lanka speaking at the CA Training partners program at the Institute of Chartered Accountants auditorium last week.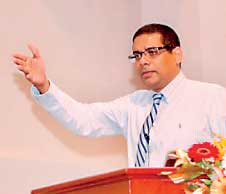 "We have to find a mechanism to guide our youth to take up opportunities in the growth sectors of the economy. Young Sri Lankans shun taking skilled and non-skilled jobs with a monthly pay of around Rs. 25,000- 40,000 in factories and hotels struggling to fill vacancies, but appear to prefer to work as trishaw drivers instead.
"The jobs offered in companies are with several opportunities for further training and personal growth and a steady income are simply ignored by the youth. We will all be held accountable for what we do now and what we fail to do by these youth.
Weerakkody highlighted the importance of Gender Diversity and the importance of attracting more women into the workforce, in order to strengthen our workforce. Only around 38 percent are currently in the workforce and fully engaged, therefore to increase the participation there is a need to provide an accommodating ecosystem to retain and motivate women.
Further, he pointed that if we are to deliver the skills required to support the growth sectors in the economy we need to create a formal forum comprising of corporate organizations, government representatives and academia to provide a vision, guidance, to improve education and skills sector coordination and support in developing the skills for today and the future with the objective of improving access to higher education and training. This will also require innovation in education, particularly online and by using robots, that will cater in a cost effective and in a more flexible, personalized way, than the current way the traditional degree or postgraduate courses are delivered.
Weerakkody said professional bodies like CA have to play a big role in making sure their members remain relevant and current and also work on a good Employee Value Proposition to attract young people to join and remain in the accountancy practice.