---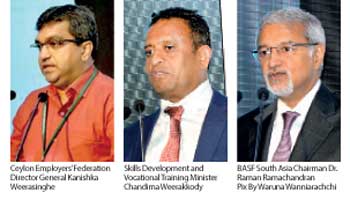 By Supun Dias
BASF South Asia Chairman Dr. Raman Ramachandran said that sustainable sourcing practices at workplace and motivating employees are the two key elements which would ensure the stability, the future and the sustainability of a company.

He made these remarks while addressing the 2017 Symposium of the Employers' Federation Ceylon, which was held at Cinnamon Grand Hotel.

"At a time when resources are being fast depleted around the world, businesses must strive to find sustainable methods of sourcing their resources. Therefore businesses should focus on these key elements to make sure that the business continues and grows amidst these obstacles," he added.
Skills Development and Vocational Training Minister Chandima Weerakkody who graced the occasion as the Chief Guest said that steps are being taken to introduce an online testing apparatus where university graduates are ranked.

"Once the graduate sits for the online test and be graded and ranked. Then it would make things easier for the employer to hire which candidate they prefer. We have issued a skills passport to streamline the process of identifying the workforce and to make sure that the individual is within the National Vocational Qualification System (NVQ) level," he added.

"Creating an environment for sustainable enterprises to thrive is the responsibility of those who are involved in policy-making. Employers play a crucial role in this process and have the responsibility of ensuring that these values permeate in the form of meaningful outcomes for all stakeholders in the world of work as a priority. We cannot afford polarization in any form, especially if we are to successfully overcome the challenges that are upon us such as the future of work issues," said Ceylon Employer's Federation Director General Kanishka Weerasinghe.

The symposium, themed 'Sustainable Enterprises –creating value', concluded yesterday addressing four main elements that sustainable enterprises have incorporated, namely: Governance, managing talents, green initiatives and supply chain, and how enterprises could further
improve on them.