---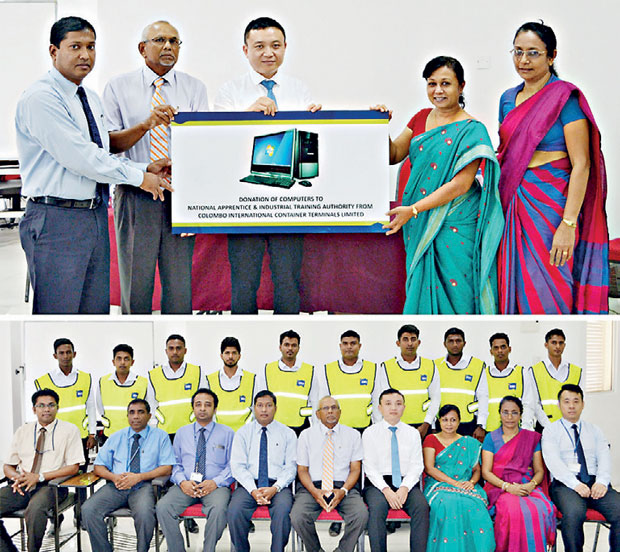 (Above) CICT CEO Ray Ren (Centre) accompanied by the Company's General Manager - Commercial & Marketing Tissa Wickramasinghe and General Manager -HR Manjula Karalliyadde (2nd left and extreme left) at the donation of computers to NAITA and (Below) representatives of CICT and NAITA with the students selected for training as Quay Crane Operators
Colombo International Container Terminals (CICT) has announced it will support the National Apprentice & Industrial Training Authority (NAITA) of Sri Lanka by providing facilities for training Quay Crane (QC) operators at the Colombo South Terminal.
A new initiative under CICT's corporate social responsibility (CSR) agenda, the partnership will see the first batch of 10 selected NAITA students undergoing on-the-job training on CICT's state-of-the-art quay cranes.
Additionally, as part of its support to NAITA, CICT recently presented 20 desktop computers to the Authority for the use of its students.
"Supporting the needs of the community is always a priority for CICT," the company's CEO Ray Ren said. "As the market leader in terminal operations and skills building, we believe we should invest in skills development for Sri Lanka's youth. The company has undertaken to bear the risk of providing high value machinery to train NAITA students through a structured training programme using its own internal expertise, because of our commitment to the country."
He said the value of the training programme is enhanced by the opportunity it provides these students to gain experience in a multi-national environment in a state-of-the-art facility offering specific technology and knowledge.
The inauguration of the CICT QC Operator Vocational Training for Sri Lankan Youth programme and the donation of computers took place at the Institute of Personnel Management (IPM) recently with the participation of the CEO of CICT Ray Ren, the General Manager Commercial & Marketing Tissa Wickramasinghe, General Manager Human Resources Manjula Karalliyadde, the Director Training at NAITA Nirosha Subodhini and District Manager NAITA Thusitha Thilakawardane.
Although CICT has been in commercial operation for just three years, the company has been involved in numerous community initiatives in Sri Lanka including flood relief, supporting the victims of the Koslanda landslide with cash donations and rations, sponsorship of the Wheelchair Tennis programme of Sri Lanka Tennis Association (SLTA) and the recent donation through the China Merchant Charity Foundation of foldable intraocular lenses and cartridges worth US$ 60,000 for cataract surgeries for needy patients.
CICT, which commenced operations in July 2013, manages the Colombo South terminal of the Port of Colombo, the first and currently the only deep water terminal in South Asia equipped with facilities to handle the largest vessels afloat.