---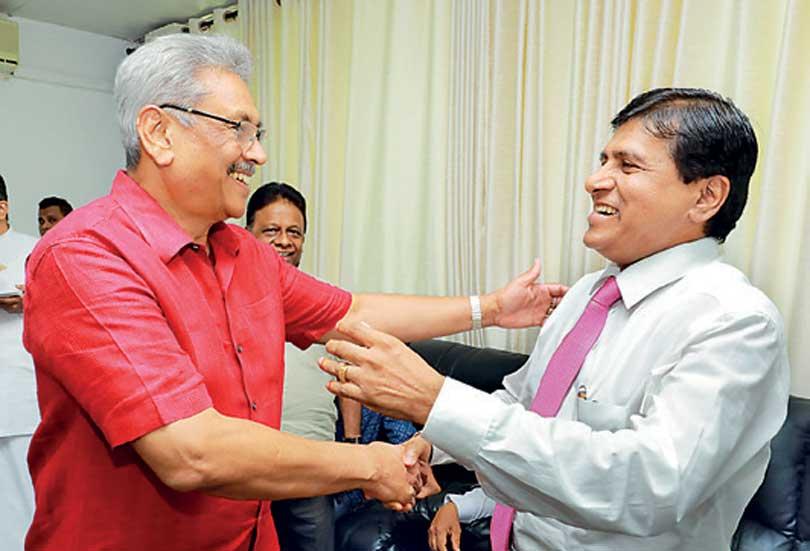 Says letters were drafted at Minister Rajitha's residence to arrest Gotabaya
UAE asked if SL govt was crazy, when asked about 'stolen funds'
By Lahiru Pothmulla
MP Wijeyadasa Rajapaksa yesterday pledged his support to SLPP Presidential Candidate Gotabaya Rajapaksa and said all citizens have a responsibility to make Mr. Rajapaksa win the election to preserve the country's sovereignty.
The MP said the country was at a crucial point and facing a hard times due to short-sighted actions taken by the incumbent government.
"This government repeatedly violated the Constitution and did not give prominence to national security. As someone who held posts in the Yahapalana Government, I believe that we should give our support to save the country from the dangers it is facing today," he said speaking at a news briefing.

He said political revenge is flourishing under the present government and said letters were drafted at Minister Rajitha Senaratne's residence to arrest Gotabaya Rajapaksa under false allegations.

"Attempts were made to arrest Gotabaya and six others over the Avant-Garde case. Legal documents in this regard were received by the Attorney General's Department but even the AG didn't know that such a letter had been issued. How did this letter come? The letter drafted at Rajitha's residence came with the signature of a solicitor general. How did this happen? When I spoke about this, I was labelled as someone who is against the government. I stopped this attempt after speaking to the President and the Prime Minister," he said.
He said Minister Senaratne repeatedly vowed that the Rajapaksas misappropriated public funds.

"Both the minister and his son vowed that they saw Mahinda Rajapaksa's robbed funds. As the Justice Minister, I told them to name the place so that we can find the money. Finally, J.C. Weliamuna and Bribery Director General forced the President and sent a letter to the UAE State Leader mentioning stolen funds. The UAE Leader has responded asking if our government was crazy," he said.
Both the minister and his son vowed that they saw Mahinda Rajapaksa's robbed funds. As the Justice Minister, I told them to name the place so that we can find the money