---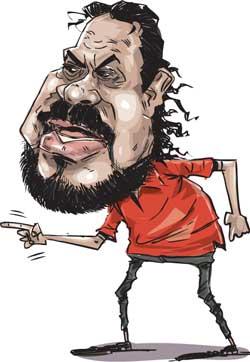 By Sheain Fernandopulle
While saying that the simplicity of NDF presidential candidate Sajith Premadasa was not genuine, National Freedom Front (NFF) leader Wimal Weerawansa said Sajith had held only one public day during the past four and half years as a minister.
Addressing a news briefing, he said even this particular public day was also held very recently, which was made viral on social media under the instruction by himself.
"When Sajith Premadasa gets onto the stage, he always speaks of the people and his immense concern on people. However, it is all just drama. It is very funny that Sajith has said he would come to the feet of the people. It is clear that he is attempting to deceive people by making such statements," MP Weerawansa added.

Moreover, he said it had been proved with the report of Presidential Commission of Inquiry (PCoI) appointed to investigate into the acts of corruption and frauds allegedly committed in state institutions during the period from January 15, 2015 to December 31, 2018, that Minister Sajith has spent more than Rs. 45 million only for plaques when constructing houses.
Meanwhile, he said they had no connection with any extremist parties and he rejected the remarks made by S.B. Dissanayake that M. L. A. M. Hizbullah supports Gotabaya Rajapaksa.