---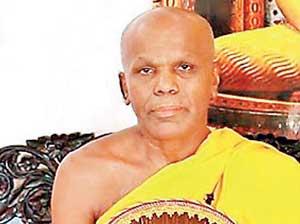 By Nadeeka Daya Bandara and L.B. Senaratne
Asgiriya Chapter Anunayake the Ven. Wendaruwe Upali Thera expressed concerns about the statement made from the public platform criticising Cardinal Malcolm Ranjith.
He said it was a matter of serious concern that a public representative should have criticized religious dignitaries in this manner when an atmosphere had been created for all communities and religious groups to live in peace and harmony promoting brotherhood.

"Activities of politicians and leading personalities are based on the standard of their understanding of different religions and cultures. However, lack of thorough knowledge of religions would affect politics. The people expect the politicians to foster their religions. Criticizing religious dignitaries will lead to one's downfall." the Thera said.
He said the politicians must understand that all communities and religious groups in the country were now living in peace and harmony and that it should not be disturbed.