---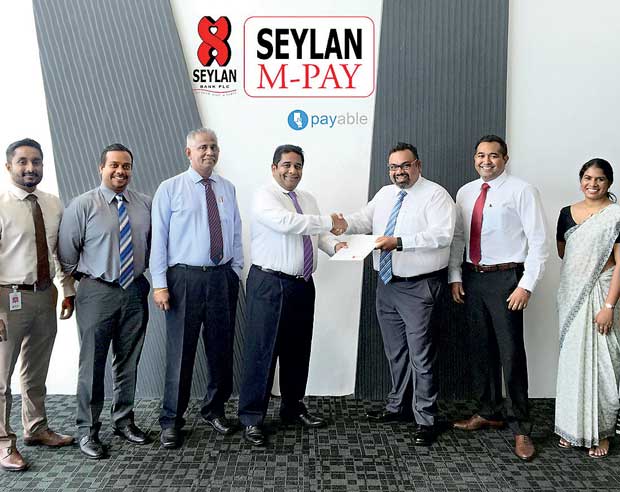 From left: Seylan Bank Chief Manager Marketing Gamika De Silva, Seylan Bank Deputy General Manager Marketing and Personal Banking Tilan Wijeyesekera, Seylan Bank Senior Deputy General Manager Retail Banking Tissa Nanayakkara, Seylan Bank Director/CEO Kapila Ariyaratne, CBA Solutions (Private) Limited CEO and Co-founder Sujith Subasinghe, CBA Solution (Private) Limited COO and Co-founder Yohan Wijesiriwardane and CBA Solutions (Private) Limited Head of Legal Tanya Goonewardene
Seylan Bank, the innovative financial solution provider, partners with CBA Solutions (Pvt.) Ltd to launch Seylan MPAY, powered by PAYable.

MPAY is a tech-driven mobile POS that will immensely benefit the individual, micro, small and medium enterprises of the country. Seylan MPAY can be used by self-employed, shop owners, small and medium-sized business owners, professionals who provide consultancy services, vendors, online retailers and even budget taxis, etc., to collect their payments via debit/credit and prepaid cards.

Encouraging the inclusive growth of the country's economy, Seylan MPAY is designed to increase the revenue and widen the customer base of enterprises at all levels. Acceptance of credit/debit cards by merchants of any size will provide the customers with convenient payment options and opportunities to purchase what they prefer conveniently and safely. It reduces the risk of carrying and keeping cash both for businesses and customers as well as not having the hassle of carrying change.

Seylan Bank Director/Chief Executive Officer Kapila Ariyaratne commenting on this initiative said, "Seylan Bank has always been in the forefront when it comes to innovation and value addition, both in its products and processes. Believing that digital is the way forward, the bank has taken actions to deliver new ways of banking, making technology meaningful for the consumers. Seylan MPAY is one such initiative taken by the bank to be on par with the global trend of cashless, paperless transactions. Seylan MPAY is an ideal solution developed in the backdrop of understanding the changes of how transactions are done nowadays and especially with a view to help the small and medium enterprise (SME) and micro segments of the economy."

Seylan MPAY is an easy to use device with a user-friendly app which works with any Android or iOS platform on smartphone or tablet device enabling mobile cashless transactions. Paired with a free Bluetooth Card reader, the device will enable the vendors to accept Visa and MasterCard credit and debit card payments. Seylan MPAY is designed using best-in-class security protocols, such as the PCI DSS Guidelines – a global security standard developed by Visa, MasterCard and other major card providers. It is also built within a secure network that is regularly monitored and tested in order to maintain the strictest standards of information security and protection of cardholder data.

Senior Deputy General Manager Retail Banking Tissa Nanayakkara stated, "Seylan Bank, sensing the pulse of businesses, entrepreneurs and e-commerce platforms as well as the increasing popularity of cashless transactions, has launched Seylan MPAY, a mobile POS system to benefit the business community and consumer base of the country.

Seylan MPAY, powered by PAYable, has been developed in collaboration with CBA Solutions (Pvt.) Ltd, a spin-off of Ceylon Business Appliance, whose experience and insight over the past 45 years in providing quality products and services have been remarkable. A normal POS machine requires the business to have a start-up fee and specific minimum turnover and fixed fee whereas MPAY does not require either of the above, making it affordable for everyone."

All one has to do is run the app on their smartphone, enter the amount, read the card via the card reader, capture the digital signature of the customer on the vendor's smartphone and deliver a digital receipt. The card reader and mobile app are provided completely free of charge. The bank does not charge any start up fees, monthly commitments or deposits from the customers, however, the standard per transaction commission is applicable.

Being attuned to the needs of the emerging small-scale business community, Seylan is continuously in the process of innovating banking services and adding value to its products in every possible angle in keeping with its aspiration to become the most innovative and tech-savvy bank. Seylan Tikiri's timely gifts, Seylan Travellers card, Seylan's social media promotions and Seylan MPay are few steps taken by Seylan to keep pace with the digital era.