---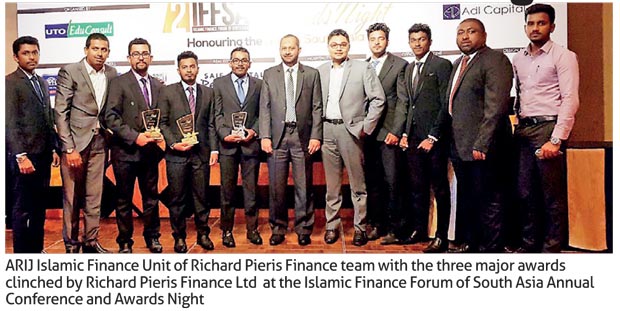 Richard Pieris Finance Ltd, the sole financial service arm of Richard Pieris and Company PLC clinched three major awards at the Islamic Finance Forum of South Asia Annual Conference and Awards Night held recently at Ramada Hotel.

The ARIJ Islamic Finance Unit of Richard Pieris Finance Ltd won the Gold award for the Islamic Banking Window, the Gold award for the Islamic Finance Turnaround Company of the Year and Silver award for the Islamic Leasing Company.

The youngest financial service provider in the country has increased its asset base to Rs.13 billion this year. It also recorded Rs.388 million after-tax-profit this year whilst increasing the deposit base to Rs.4 billion.

"Since our inception we strive to better serve our clients by providing profitable products while solidifying our position in the financial sector. So we are very proud of the fact that we were recognized and awarded for the service that we render to our customers, and our gratitude goes to them," said Richard Pieris Finance Ltd Executive Director/CEO K.M.M. Jabir.

"We have seven branches and seven service centres and we have applied to the Central Bank that we want to transform the service centres into branches. We go by our logo 'Your Gain is Our Goal'. With our committed and dedicated employees along with our loyal customers, our growth is at a steady pace," he added.

Richard Pieris and Company PLC has accompanied the Sri Lankan people through eight decades of change, and the company has evolved into one of the largest private institutions in the country and stands tall among the ranks of the country's diversified business conglomerates.

With its footprint extending from manufacturing to retail to plantation management and financial services, the group is involved in creating value across the national economy and is one of the most long standing, stable and profitable corporate entities in the country.